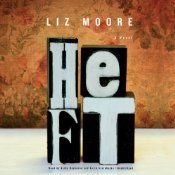 Heft by Liz Moore, narrated by Kirby Heyborne and Keith Szarabajka
Published in audio by Blackstone Audio, published in print by W.W. Norton
Synopsis:
From the publisher:
Former academic Arthur Opp weighs 550 pounds and hasn't left his rambling Brooklyn home in a decade. Twenty miles away, in Yonkers, seventeen-year-old Kel Keller navigates life as the poor kid in a rich school and pins his hopes on what seems like a promising baseball career—if he can untangle himself from his family drama. The link between this unlikely pair is Kel's mother, Charlene, a former student of Arthur's. After nearly two decades of silence, it is Charlene's unexpected phone call to Arthur—a plea for help—that jostles them into action.
Thoughts on the story:
Heft is very well-written with great characterization. It is also unremittingly depressing for quite awhile. Both Arthur and Kel just have bad thing after bad thing happen to them. It seems they have so little in their lives that is good that it can be hard to take. Still, Moore has created compelling characters and difficult as it is to stay with them, it is also hard to turn away.
Thoughts on the audio production:
(Note: the original version of this review had the narrators' names reversed)
Keith Szarabajka is an incredibly talented narrator, and he performes Arthur's role magnificently, not to mention the amazing range of disparate voices he gives to those with whom Arthur came in contact. I was less enthused by Kirby Heyborne's performance. He does a technically good job, but Szarabajka is a hard act to follow. In addition, it is a bit difficult to believe Heyborne as a teenager when he was born in 1952. He is able to affect a fairly youthful voice, but a teenager he is not. Perhaps other people aren't bothered by this in audiobooks, but it drives me batty. I am much more able to accept a vaguely adult sounding child, but a maturely voiced teenager pulls me right out of the audiobook.
Overall:
I think I might have preferred this in print, so the sadness didn't go straight into my ears, but Keith Szarabajka's performance is worth a listen.
Buy this book from:
Powells: Audio/Print*
Indiebound: Audio/Print*
Source: review.
* These links are all affiliate links. If you buy your book here I'll make a very small amount of money that goes towards hosting, giveaways, etc
Sound Bytes is a meme that occurs every Friday! I encourage you to review your audiobooks on Fridays and include the link here. If you have reviewed an audiobook earlier in the week, please feel free to link that review as well. Thanks to Pam for creating the button.
.
Copyright protected by Digiprove © 2013