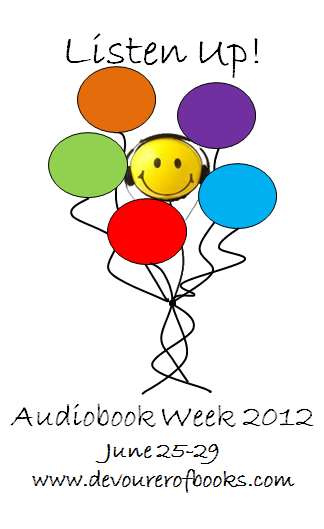 As you probably know, June 25-29, 2012 is Audiobook Week here at Devourer of Books! If you haven't heard about Audiobook Week yet, check out my first post on the topic.
Participating
There will be a lot going on here, and I hope that you will consider taking part! I will have daily reviews as well as daily discussion/exposition topics on audiobooks. At the end of each of my reviews and each discussion topic I will have a Mr. Linky for you to leave a link to your audiobook review/discussion post. If you have anyone guest post on your blog about audiobooks, or write on another audiobook-related topic you can link those posts under the discussion topics as well. I f you would like to participate but do not have your own blog, feel free to leave your own reviews and responses in the comments of the appropriate posts.
Prizes:
I've had some generous sponsors, so I have LOTS of copies of audiobooks to give away to give away next week. Every day I will choose at least one person who has included a link to a review and one person who has included a link to a discussion post to win an audiobook, and will choose at least one other winner from commenters here next week. A few other participants will also have opportunities to win. I will have a list of all the audios I have available (and where they can be shipped), winners will email me their choice at audiobookweek@gmail.com and I will remove the selected title from the list. Since I'll be choosing from the Mr. Linky, PLEASE make sure your blog has an easily found way to contact you!
Daily Discussion Topics:
In case you like to write your posts ahead of time and schedule them, here is a post topics for Audiobook Week (feel free to expand on any of the topics below in whatever way you feel led):
Monday: 2011-2012, Your Audiobook Year
Are you new to audiobooks in the last year? Have you been listening to them forever but discovered something new this year? Favorite titles? New times/places to listen? This is your chance to introduce yourself and your general listening experience.
Tuesday: So You Want to Review Audiobooks…
Discuss the essentials of audiobook reviewing. What do you make sure to include? What do you want to see when you read other people's reviews?
Wednesday: Mid-week Audiobook Week Meme
This will not be up until the morning of Wednesday, June 27th, but it will be short and fast, so check in and join the fun.
Thursday: What Makes a Good Narrator?
Who are your favorite narrators and why? What do you look for in a narrator? Have a preference between male or female narrators?
Alternate suggestion: Narration preferences – single narrator, multiple narrators, full cast, etc.

Friday: Listen Up!
Where do you learn about great audiobook titles? Find reviews? Buy your audiobooks? Share your secrets with the rest of us!
Copyright protected by Digiprove © 2012