If you wrote a post on this or any of my other discussion topics today, Friday, June 29th please leave your link in the Mr. Linky before midnight Central time (US) and you will be eligible to win a prize.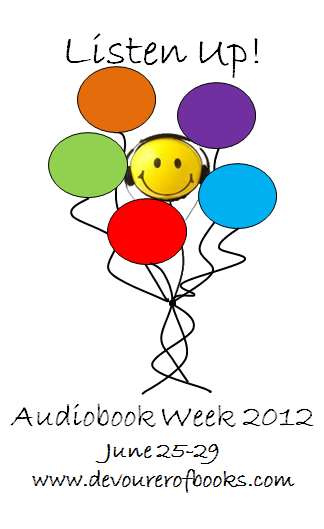 Where do you learn about great audiobook titles? Find reviews? Buy your audiobooks? Share your secrets with the rest of us!
Here are some of my favorite audiobook resources:
I'm slightly biased, because I review for Audiofile Magazine, but I think they provide a really great audiobook resource. There is an actual, physical magazine that will introduce you to many audiobooks you might otherwise never have heard of. The magazine comes every other month, and a year's subscription is under $20, or two years' subscription costs less than $30. You can check out the reviews and some of the content for free online. When I'm considering getting an audiobook, I often go first to AudioFile to see what the reviewer there thought about it, to decide whether or not it is worth my time.
Do you want to know what a bunch of bloggers think about an audiobook? Audiobook Jukebox is the place to find that out. You can add links to your reviews, and find links to other people's reviews. A must-visit if you want to determine what the blogosphere's consensus on an audiobook is.
Another one where I'm biased! If you want the audiobook camaraderie of Audiobook Week all year 'round, check out my Sound Bytes meme, started after Audiobook Week last year. Every Friday I review an audiobook (or occasionally have other audiobook-related content). I encourage other bloggers to review their audiobooks on Friday as well, but I welcome links to any and all audiobook reviews/content from that given week.
What are your favorite audiobook resources?
Copyright protected by Digiprove © 2012