If you wrote a post on this or any of my other discussion topics today, Wednesday June 27th please leave your link in the Mr. Linky before midnight Central time (US) and you will be eligible to win a prize.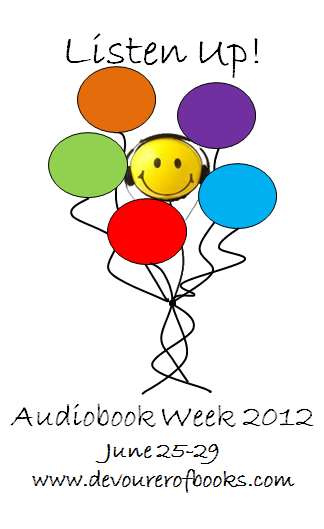 Here's something quick and easy for the middle of the week, just a short meme. Just copy and paste to your own post (and, you know, obviously change the answers so they're yours and not mine).
Current/most recent audiobook:
Bring up the Bodies by Hilary Mantel, narrated by Simon Vance
Impressions:
This is definitely an audiobook you have to pay attention to, Mantel is a complex writer, but Vance seems to be a perfect fit as narrator, and I'm very much enjoying it.
Current/most recent favorite audiobook:
I have listened to a LOT of great audiobooks lately, but there are two that really stand out, and which I can't seem to stop recommending. The first is A Land More Kind Than Home by Wiley Cash, narrated by Lorna Raver, Mark Bramhall, and Nick Sullivan. The other is also a multi-narrator cast, May the Road Rise Up to Meet You by Peter Troy, narrated by John Keating, Barrie Krinik, Allyson Johnson, and Adam Lazarre White. I don't necessarily have a preference for multi-narrator casts over single-narrator casts, but I think they have the ability to be all that much more impressive when done very well, and both of these were. Plus, both of these had incredibly engaging plots and wonderful writing. Win-win-win!
Favorite narrator you've discovered recently:
Two words: DAN STEVENS. Yes, that Dan Stevens, the one who plays Matthew Crawley on Downton Abbey. I'm often somewhat hesitant about narrators who are actors, but I've found that actors who have performed on stage, not simply in television and movies, tend to make absolutely phenomenal narrators and Stevens is no exception. I listened to him narrate Stef Penney's The Invisible Ones and he was OMGAMAZING, bringing every single character vividly to life.
One title from your TBL (to be listened) stack, or your audio wishlist:
The Night Circus by Erin Morgenstern has been in my TBL virtual pile ever since it was released, I'm not exactly sure how I haven't listened yet – although maybe it was good to step back from the crazy hype this title received last fall. Jim Dale narrates, and he seems to be the perfect complement to Morgenstern's magical story.
Your audio dream team (what book or author would you LOVE to see paired with a certain narrator, can already exist or not):
You know, I think the Best. Pairing. Ever. may have already been made, with Wil Wheaton narrating Ernest Cline's Ready Player One. 80s geek nostalgia plus 80s geek icon (who is even referenced in the text) = amazing.
Copyright protected by Digiprove © 2012