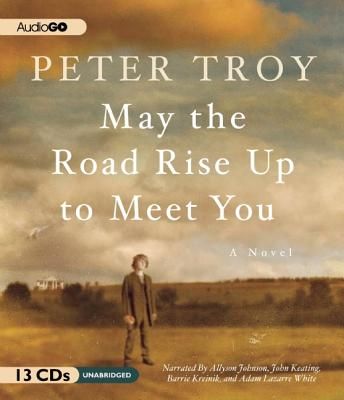 May the Road Rise Up to Meet You by Peter Troy, narrated by John Keating, Barrie Kreinik, Allyson Johnson, and Adam Lazarre White
Published in audio by AudioGo; published in print by Doubleday, an imprint of Random House

If you reviewed an audiobook today, Monday June 25th please leave your link in the Mr. Linky before midnight Central time (US) and you will be eligible to win a prize.
Synopsis:
From the publisher:
Four unique voices; two parallel love stories; one sweeping novel rich in the history of nineteenth-century America. This remarkable debut draws from the great themes of literature—famine, war, love, and family—as it introduces four unforgettable characters. Ethan McOwen is an Irish immigrant whose endurance is tested in Brooklyn and the Five Points at the height of its urban destitution; he is among the first to join the famed Irish Brigade and becomes a celebrated war photographer. Marcella, a society girl from Spain, defies her father to become a passionate abolitionist. Mary and Micah are slaves of varying circumstances, who form an instant connection and embark on a tumultuous path to freedom.

All four lives unfold in two beautiful love stories, which eventually collide. Written in gorgeous language that subtly captures the diverse backgrounds of the characters, and interspersed with letters, journals, and dreams, this unforgettable story, rendered in cinematic detail, is about having faith in life's great meaning amidst its various tangles
Thoughts on the story:
I don't always enjoy American historical fiction, but May the Road Rise Up to Meet You is a phenomenal novel. Each of the four storylines is wonderfully written and plotted in and of itself, but they mesh beautifully and authentically. It is  obvious that the lives of the four characters will have to cross or connect at some point, but it is not always clear exactly how they will do so. The intertwining of the stories could easily have been very forced and contrived, but Troy draws his characters together naturally. In addition to the four strong and compelling characters, each with fascinating backgrounds, Troy's writing is very good, combining to make May the Road Rise Up to Meet just a wonderful historical novel.
Thoughts on the audio production:
Troy's novel is wonderful in and of itself, but the cast of narrators put together by AudioGo elevates May the Road Rise Up to Meet You to an even higher level. Each of the four main characters is voiced by a separate, talented narrator. Each of them manages to completely become their character and, perhaps even more impressively, each is able to seamlessly switch accents when one of the other characters engages in dialog during one their character's sections.
For more on the audio production, please see my review for Audiofile Magazine:.
Overall:
A wonderful historical novel, no matter how you experience it, but if you have the option I strongly encourage you to listen to the audio, which will only enhance the experience. Very highly recommended.
Buy this book from:
Powells: Audio/Print*
Indiebound: Audio/Print*
Source: Audiofile Magazine.
* These links are all affiliate links. If you buy your book here I'll make a very small amount of money that goes towards hosting, giveaways, etc.
Copyright protected by Digiprove © 2012