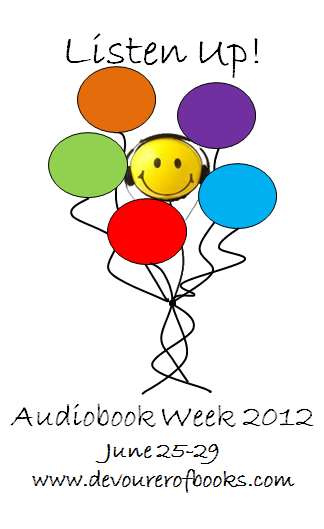 Audiobook Week is coming! Audiobook Week is coming!
Okay, so, it isn't coming all THAT soon, but I would like to get it on everyone's radar, especially because between now and then I'll be thinking about moving and having twins in addition to focusing on Audiobook Week. But still, it is coming!
This year, due to the lateness of Book Expo America, Audiobook Week will be held from June 25-June 29th, as a last hurrah for June is Audiobook Month. This year Jen from A Book and A Latte will be joining the Audiobook Week team as the Editor of Prize Fulfillment (so you all still get your prizes if the twins come early).
If you aren't familiar with Audiobook Week, this is an event I hosted in both 2010 and 2011. I post an audiobook review every day for that week, and encourage other bloggers to do likewise and to link those reviews up daily. Thanks to some very generous audiobook publishers, we have prizes to award to those who participate*. Posting audiobook reviews is not the only way to participate, either. At least two weeks before the event I will be announcing the Audiobook Week daily discussion topics. Bloggers are encouraged to write about any and all of the discussion topics that interest them. As with the reviews, discussion posts that are linked up with that day's topic make the blogger eligible for prizes. Simple, really!
So start stockpiling those audiobook reviews now, and let me know at AudiobookWeek@gmail.com if you have any topics you are dying to discuss with the listening community so I can consider them for this year's daily discussion topics. Oh, and if you are so inclined, please do grab the Audiobook Week button:
If you need more audiobook goodness in your life between now and then, don't forget to check out my weekly audiobook feature Sound Bytes, which includes a roundup of other bloggers' audiobook reviews, and the Armchair Audies!
*Publishers, if you are interested in donating audiobook prizes to Audiobook Week, please email AudiobookWeek@gmail.com.
Copyright protected by Digiprove © 2012