If you wrote a post on this or any of my other discussion topics today, Monday June 25th please leave your link in the Mr. Linky before midnight Central time (US) and you will be eligible to win a prize.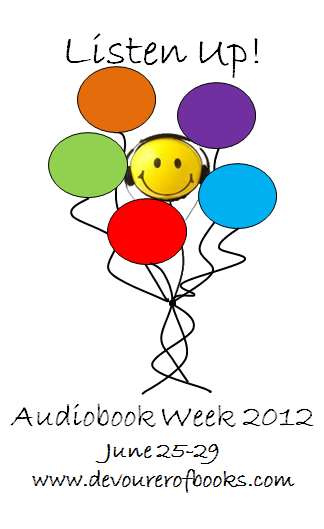 Who are your favorite narrators and why? What do you look for in a narrator? Have a preference between male or female narrators?
Alternate suggestion: Narration preferences – single narrator, multiple narrators, full cast, etc.
What I Look for in a Narrator
The very most important thing to me is, does the narrator fit the audiobook? There are some narrators that are great, but just don't really fit. For instance, Carolyn McCormick narrating the The Hunger Games series. She's undoubtedly a talented narrator, but in my opinion she sounds way too old for a first person narrative from the point of view of a teenager, even though she does a wonderful job with the rest of the voices. I know not being cast well is not a narrator's fault, but it makes a huge difference in my enjoyment of an audiobook
Expression: what exactly this means will depend on the book you're listening to, but is the level of expression appropriate for the book? Do they avoid falling into melodrama? Do they provide enough emotion to make you invest in the story? If they are narrating nonfiction, do they sound interested in their subject matter?
Accents and vocal differentiation: Are any necessary accents believable? Can you tell one character from another?
Voice: Do I want to sit and listen to this person for 8-20 hours?
Some favorite narrators (a by-no-means exhaustive list):
Copyright protected by Digiprove © 2012