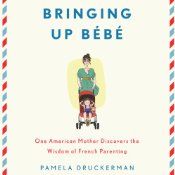 Bringing Up Bebe by Pamela Druckerman, narrated by Abby Craden
Published in audio by Random House Audio, an imprint of Random House; published in print by Penguin Press, an imprint of Penguin

If you reviewed an audiobook today, Tuesday, June 26th please leave your link in the Mr. Linky before midnight Central time (US) and you will be eligible to win a prize.
Synopsis:
Pamela Druckerman is an American woman married to a British man and living in Paris. When their daughter was a year old, the family took a vacation that necessitated eating out in restaurants every night. As most parents of a one year old can probably imagine, that didn't go particularly well, particularly since they were eating nice places, not the the French equivalent of family chain restaurants. As she sat there, trying to figure out how to  keep her child entertained, Druckerman began to realize that the other toddlers in the restaurant were waiting calmly for their food and eating whatever was put in front of them. Since French parenting is not mythologized like their wine and cheese, it took her some time to realize what was going on, but eventually she began to pay closer attention to what the French parents around her were doing.
Thoughts on the story:
Bringing Up Bebe is a fascinating look at cultural differences in parenting, but it is not, strictly speaking, a parenting book. Druckerman is not holding French parenting up as the be all and end all of parenting, but as a consistent ideology that produces relatively consistent results, the results that are desired by these French parents. I can definitely see why this book has been somewhat controversial: many of the French parenting techniques are anti-attachment parenting, which is a huge trend in the United States at the moment; in addition, many of the stories she tells of American parents in Manhattan and Brooklyn are ridiculous in the extreme, and not really the norm of American parenting. Of course, since she is primarily studying Parisian parents, perhaps comparing them to New York parents of the same general social strata is, indeed, fair. Overall, though, Bringing Up Bebe offers interesting insights and ideas and is also fascinating simply as a cultural comparison of parenting styles.
Thoughts on the audio production:
Abby Craden does a wonderful job narrating Bringing Up Bebe. Her accents are good and her narrative style engaging, but most of all, I frequently forgot that I was listening to a hired narrator, and not simply Druckerman relating her observations. The ability to seamlessly blend into the story is, perhaps, the highest praise that I can give a narrator of memoirs. In becoming Druckerman, Craden brings this personal and parental account vividly to life.
Overall:
A fascinating book, you may want to have Bringing Up Bebe in print to refer back to some ideas, but I do recommend listening to Abby Craden narrate.
Buy this book from:
Powells: Audio/Print*
Indiebound: Audio/Print*
Source: Library.
* These links are all affiliate links. If you buy your book here I'll make a very small amount of money that goes towards hosting, giveaways, etc.
Copyright protected by Digiprove © 2012