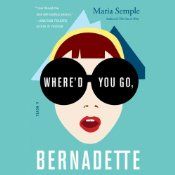 Where'd You Go, Bernadette? by Maria Semple, narrated by Kathleen Wilhoite
Published in audio by Hachette Audio, published in print by Little, Brown and Company
Synopsis:
From the publisher:
Bernadette Fox is notorious. To her Microsoft-guru husband, she's a fearlessly opinionated partner; to fellow private-school mothers in Seattle, she's a disgrace; to design mavens, she's a revolutionary architect, and to 15-year-old Bee, she is a best friend and, simply, Mom.

Then Bernadette disappears. It began when Bee aced her report card and claimed her promised reward: a family trip to Antarctica. But Bernadette's intensifying allergy to Seattle – and people in general – has made her so agoraphobic that a virtual assistant in India now runs her most basic errands. A trip to the end of the earth is problematic.

To find her mother, Bee compiles email messages, official documents, secret correspondence – creating a compulsively readable and touching novel about misplaced genius and a mother and daughter's role in an absurd world.
Thoughts on the story:
Where'd You Go, Bernadette? is charmingly told, the story of a young girl and her missing mother. There is a series of improbable events that seem like they should be ridiculous, but which instead become a lovely story that will captivate readers. 
Thoughts on the audio production:
I may be the only one who feels this way, but I don't totally love Kathleen Wilhoite as a narrator. She is talented and does pull off the voice of a young girl well, but – in a totally nitpicky way – I find her voice almost TOO little girl-like here, and it sorts of grates on my nerves. This is a totally subjective thing, objectively she's good, but there's just some quality in her voice that doesn't thrill me.
Overall:
A good production and a wonderful book, but I didn't love the audio as much as some others do.
For more information on this book, check out the publisher's page.
Source: Publisher

Sound Bytes is a meme that occurs every Friday! I encourage you to review your audiobooks on Fridays and include the link here. If you have reviewed an audiobook earlier in the week, please feel free to link that review as well. Thanks to Pam for creating the button.
Copyright protected by Digiprove © 2013