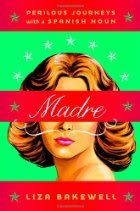 Madre: Perilous Journeys with a Spanish Noun by Liza Bakewell
Published by W. W. Norton & Company

Madre means mother, right? Well, technically. Madre may mean mother in Spanish, but it means a whole lot else besides that in Mexico. There is an extensive list of madre idioms, nearly all of which have negative meanings along the lines of disaster or whore. How can this be, when mothers traditionally hold a very high place in Mexican society, in a land where the Holy Virgin, the mother of Christ, is so venerated? What question could be more fascinating to a social anthropologist with an interest in linguistics and feminist leanings from the United States living in Mexico? It was this first question, in fact, that turned Liza Bakewell from a social anthropologist into a linguistic anthropologist with a particularly interest in madre and the intersection of gender and language.
"It can be dangerous to say madre in Mexico. Underscored and italicized. His words would blow fire across the screen. A kind of watch-out fuerte, not only powerful, but really powerful. Like a match to gasoline, or a blow to the face." -p. 47
Out of this fascination came Madre: Perilous Journeys with a Spanish Noun. The subtitle of Madre is really the best description of what this book is. Far from a strictly academic treatise, Madre is more of a travelogue/memoir combo by someone who is simply very intelligent and likes to think deeply about issues of language and society. In spite of this, the chapters are organized topically within the larger subject of madre: talking about piropo and albur, the grammatical dominance of maleness even in a room predominantly female, las mentadas de madre.
Perhaps this begins to explain the origins of the symbolic dilemma of madre in Mexico. The Church believes the bride, once married, is Eve, not the Virgin. -p. 175-176
Maybe it is just me, maybe I missed my calling as an anthropologist, but I think that the intersection of gender, culture, and language is a fascinating place to linger and observe, and I'm so grateful that Bakewell brought me to this particular intersection. Even better, she does not manage to lose a non-Spanish speaking, non-linguist on her journeys. It could be occasionally disconcerting to have the very personal style interacting with the linguistic and anthropological insights, but overall it worked very well.
A very interesting book, if the concept interests you, then I can recommend Madre.
Buy this book from:
Powells | Indiebound*

Source: Publisher.
* These links are all affiliate links. If you buy your book here I'll make a very small amount of money that goes towards hosting, giveaways, etc.
Copyright protected by Digiprove © 2011