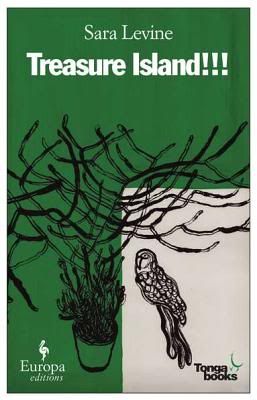 Treasure Island!!! by Sara Levine
Published by Europa Editions
A pet lending library (yes, that it just what it sounds like) is perhaps not the most prestigious place for a college graduate to work, but then again, it wasn't all the great being an ice cream-scooper or gift-wrapper either. Not only is our unnamed protagonist stuck in the deadest of dead end jobs, but her relationship with her live-in boyfriend (read: the guy she mooches off of) is somewhat sub-par as well. But, while she's not really happy, she's also not motivated enough to change anything about how she is living – until she reads Robert Louis Stevenson's Treasure Island. Never has a book had such a deep and immediate impact on a reader as Treasure Island has on her, that it is life-changing is not even hyperbole. Armed with what she sees as the books Core Values of boldness, resolution, independence, and horn-blowing, our unnamed protagonist is now ready to take on the world with hilarious results that are both predictable (to the reader) and unexpected (to her).
Never has a book been so poorly interpreted as Stevenson's Treasure Island is by the narrator of Levine's Treasure Island!!!. Her assessment of the Core Values may not be too far off, but her method of attempting to live them out is, frankly, bizarre, and generally involves taking little to no responsibility for her actions. Now, none of this is in any way meant to be a criticism of Levine's Treasure Island!!!, she has actually created a wryly story about an incredibly misguided and socially inept girl who completely misses the point of what she considers to be incredibly transformational literature.
Levine's Treasure Island!!! is fun and funny, and may make you wonder if you have ever completely missed the point of a book. If you're interested in Levine's process and how she came to write Treasure Island!!!, check out our interview with her on What's Old is New.
Buy this book from:
Powells | Indiebound*
Source: Publisher, for an episode of What's Old is New.
* These links are all affiliate links. If you buy your book here I'll make a very small amount of money that goes towards hosting, giveaways, etc.
Copyright protected by Digiprove © 2012