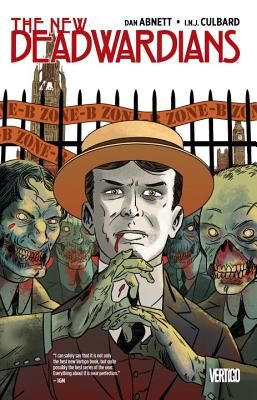 SO. I was listening to Pop Culture Happy Hour for the billionth time, as is my wont (I promise, a post about this is coming), and it was an old one in which Glen Weldon mentioned Free Comic Book Day. This inspired me to look up the comic book stores around me on the Free Comic Book Day website. It turns out we have more independent comics shops around than we do bookstores, including chain bookstores. So then I decided that my new project is to explore both our local comics shops and comics and graphic novels in general by buying something from each of the stores. For my first attempt, I found the local shop to be small and dominated predominantly by single issue comics. Since I don't feel quite ready for those yet, I focused on the small rack of compilations and works originally published as complete graphic novels. I was hoping to be the beneficiary of some good hand selling, but the clerk was busy most of the time we were in there, so I just browsed until I found THIS little gem.
The New Deadwardians by Dan Abnett and I.N.J. Culbard
Published by Vertigo, an imprint of D.C. Comics
EDWARDIAN VAMPIRES VERSUS EDWARDIAN ZOMBIES. #FTW
In The New Deadwardians, Britain has been frozen in time by a horrid disease and a cure that might even be worse. In 1861, Britain began to be plagued by the Restless Curse, something that effectively turned people into zombies. In an attempt to counteract the curse and provide an ability to fight the Restless, the Cure was invented and taken by the upper classes. The Cure was able to make those who took it invisible to the Restless, but it did it by making them dead as well, vampires to be exact, referred to as the Young. Although the lower classes are still human, their lives are basically ruled by interactions with the two types of dead creatures around them, and they're starting to revolt. George Suttle is one of the Young, and the last detective in the Scotland Yard murder squad. There's not much need for a homicide detective when everyone who is considered to matter is already dead. Except then a Young man is found dead, and not by any of the common causes. How can someone dead die again? Chief Inspector Suttle may have gotten in over his head in this investigation.
I completely loved this book. First of all, Edwardian vampires and zombies? SOLD. SOLD. The story is told well and paced beautifully, I really didn't run into any problems considering this compilation was originally sold as single issue comics, it flows very nicely. I also adored the illustrations; color is used to great advantage, setting the scene and communicating even the slightest change in mood.
I adored this x1000000. If you have any recommendations for me on the graphic novel front, I'd love to hear them, in case the next comics store I head to isn't so much on the hand selling, either.
Copyright protected by Digiprove © 2014