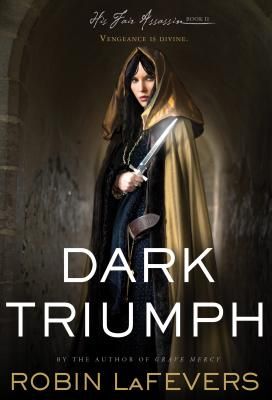 Dark Triumph by Robin LaFevers
Published by Houghton Mifflin Books for Children, an imprint of Houghton Mifflin
This is the second book in the His Fair Assassin series. I have previously reviewed the first book, Grave Mercy. This review may contain spoilers for Grave Mercy.
Picking up just where Grave Mercy left off, Dark Triumph focuses not on Ismae, as the first book did, but on her fellow initiate from the convent of St. Mortain, Sybella. Damaged and hurting, Sybella is forced by the sisters at the convent to return to the home that tortured her, that made her the creature she is today.
Can she find a way to save her friends and Brittany, or will her time at home return her to the thrall and control of her father.
I am absolutely thrilled that LaFevers chose to tell Sybella's story in Dark Triumph. For one thing, it is a much more involved and compelling story than I had imagined when we met her in Grave Mercy. For another, telling Sybella's story allows LaFevers to move the story of the Franco-Breton war and Anne's duchy forward without falling prey to the middle-of-the-trilogy slump. Much of what happens in regards to Anne's story is in the background, but Sybella's engaging story means there is significant narrative thrust to keep the reader entertained.
I can't wait to see what is next for us in this series. Highly recommended.
For more information, please see the author's website.
Source: Library.
Copyright protected by Digiprove © 2013