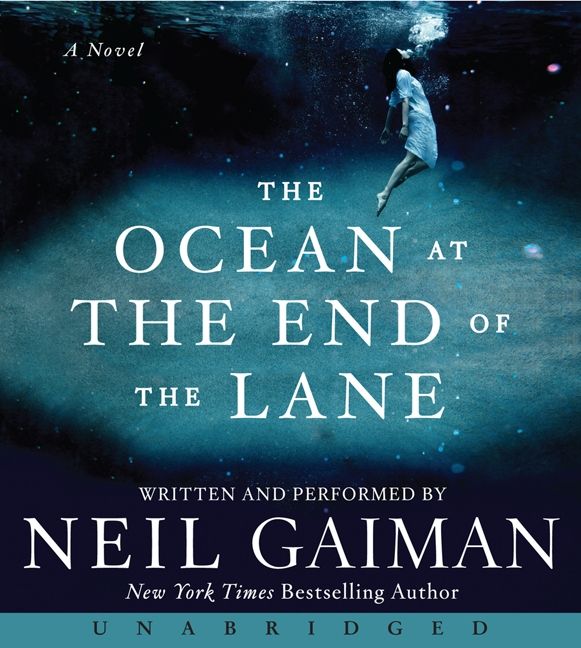 The Ocean at the End of the Lane written and narrated by Neil Gaiman
Published in audio by Harper Audio, published in print by William Morrow, both imprints of HarperCollins
Synopsis:
The Ocean at the End of the Lane opens with the protagonist, now an adult, returns to his childhood home and happens upon an old friend's house, where he finds one of her older relatives. The longer the protagonist stays at Lettie Hempstock's house, the more he behinds to remember his time with her. These memories are long buried, other more reasonable memories of the same time have taken their place, but the Hempstock farm brings back the truth of what happened when the protagonist was seven years old.
Thoughts on the story:
The Ocean at the End of the Lane is so magical that it is scary. It begins as a simply charming story of  a sweet little boy, but strange things begin happening around him. When he tries, with his new, slightly older friend Lettie Hempstock to appease the spirit causing problems, he inadvertently creates a far larger problem. The story builds along very nicely. While I wouldn't classify it as horror, there is one section that would nearly qualify as a supernatural horror, although it invokes more tension than outright fear, since we know the protagonist survives. The details about the Hempstocks are beautifully crafted, making this otherworldly family seem absolutely realistic. It is a short but utterly absorbing novel, if you have it in print you could probably easily read the whole thing in a single sitting.
Thoughts on the audio production:
Ah, Neil Gaiman is one of those few authors who really should narrate his own work. His narration is particularly effective since his protagonist seems to be approximately his own age in the framing pieces and his protagonist as a child is said to be loosely based on his own childhood (minus the magical creatures trying to kill him, I'm assuming). As such, his narration fits the novel beautifully and he is able to give his words a level of emotion that take them to the next level.
Overall:
The story in itself is fabulous, so I don't think you can go wrong with The Ocean at the End of the Lane however you consume it, but Gaiman's narration gives it that extra special something. If you can listen to this audiobook, please do.
For more information, please see the publisher's page.
Source: Publisher.

Sound Bytes is a meme that occurs every Friday! I encourage you to review your audiobooks on Fridays and include the link here. If you have reviewed an audiobook earlier in the week, please feel free to link that review as well. Thanks to Pam for creating the button.
Copyright protected by Digiprove © 2013