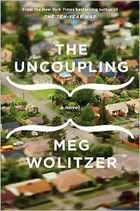 The Uncoupling by Meg Wolitzer
Published by Riverhead Books, an imprint of Penguin
I read The Uncoupling for an episode of What's Old is New. You can check out our interview with Meg about the book, and if you've already read it, check out our spoilery outtakes.
Stellar Plains, New Jersey is a relatively happy town. Dory Lang and her husband Robby are certainly happy, even if they do wish that their teenage daughter would read a bit more. Still, they are happy with their lives, with their jobs as high school teachers, with their relationship. Then Fran Heller enters all of their lives as the high school's new drama teacher and decides to put on Lysistrata as the school play. Suddenly, Dory has no desire to sleep with her husband, which has never been the case in the entire time they have been together. She isn't the only one, either, all over town women are turning away from their husbands, boyfriends, and lovers. Suddenly the little flaws that have been overlooked in everyone's relationships are front and center, and sex is nowhere to be found.
At its height, it was a knockout of a spell, fortified by a classic work of literature – a play that had lasted since 411 B.C., and which lasted even now, in this age of very different gratifications. -p. 246
Wolitzer's prose is phenomenal. I am typically a reader who requires a mixture of good writing and good plot and character development in order to love a book, but I think I could have loved The Uncoupling even if the plot had been completely uninteresting, the writing was good enough to suck me in and keep me reading compulsively all on its own. The quote above is, I think, a perfect example of the compelling style of prose – in addition to containing a sentiment with which I wholeheartedly agree.
And then there was the fact that the prose was not the only thing that The Uncoupling had going for it. Certainly the book uses the famous Aristophanes play, Lysistrata, as a jumping off point, but it is not about a sex strike in order to end war. Instead, it is an examination of love and sex, of relationships and desire, and how the waxing and waning of one element can have such great consequence for another. So many relationships are examined that a reader would be hard-pressed to become emotionally involved in more than one or two (likely those of Dory and Robby, or their daughter Willa and her boyfriend Eli), but all of the characters are fully realized, even those with extremely minor roles, which lends a richness to the story as if the reader was actually a part of the town of Stellar Plains, watching this spell strike all of his or her neighbors.
I absolutely adored The Uncoupling, it offered me the full package of what I believe makes a book worth reading: prose, characters, plot, and something to connect with on a deeper level. This is a book I can very highly recommend, and one that is likely to make an appearance on my 'best of' list at the end of the year (and likely that of many other people as well).
Buy this book from:
Powells | Indiebound*
Source: Publisher.
* These links are all affiliate links. If you buy your book here I'll make a very small amount of money that goes towards hosting, giveaways, etc.
Copyright protected by Digiprove © 2011