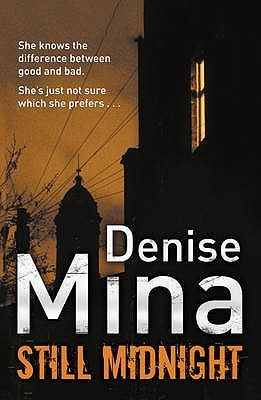 Still Midnight by Denise Mina
Published by Reagan Arthur/Back Bay Books, an imprint of Hachette
It is an unprofessional kidnapping. A teenage girl gets her hand blown off, an old man – the wrong man – is taken. Do the kidnappers even have the right house in the quiet Glasgow suburb? At first it seems quite possible to Detective Inspector Alex Morrow that this whole thing is a mistake, although that doesn't exactly help get the elderly hostage back. This is a case that gets to Morrow, this family disrupted in the area where she grew up. In order to solve it, Morrow has to revisit some of the people from her past and, in doing so, perhaps put her entire job at risk.
Still Midnight has one of those openings that leaves you going, "huh, what now?" The first 30 pages or so are a bit slow for exactly that reason, as the reader tries to figure out exactly what is going on. Once everything becomes clear, though, Still Midnight becomes an exceptionally engaging book. First, there is the mystery; clearly there is something happening that is not quite what it seems. In addition, Morrow herself is a fascinating character. She is sick with loss and a need to prove herself while also hiding her past.
I ended up really loving Still Midnight, and I can't wait to read the next book in the series, The Wasp Season. If you've read Still Midnight, we are discussing it on June 11th, 2013 on Nicole's blog.
For more information, please see the publisher's page.
Source: Publisher.
Copyright protected by Digiprove © 2013