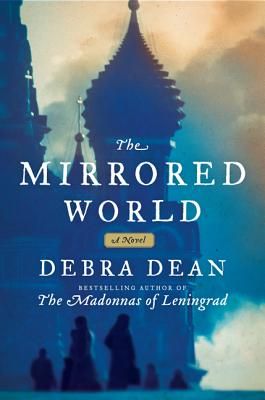 The Mirrored World by Debra Dean
Published by Harper Books, an imprint of HarperCollins
Xenia has always been a strong young woman, sure of what she wants. When she marries it is as much for love as anything else, and Xenia desires little more than to have a child with her husband. However, Xenia fails to conceive for many years, and when she does conceive she loses. Always sensitive and prone to prophetic dreams, the last straw for Xenia is when her husband dies in a freak accident following a ball thrown by Empress Elizabeth at the palace. Before long, Xenia has lost all reason and disappears, only to reappear some years later as the soothsayer and healer, St. Xenia.
Dean's The Madonnas of Leningrad is one of the last books I read before I started blogging and I adored it, so when I heard she had another novel coming out, I jumped to read it. In some ways, The Mirrored World is slightly less accessible than the WWII-era The Madonnas of Leningrad, as many Westerners may never have heard of Russia's St. Xenia. The Mirrored World is a reimagining and humanizing of the saint's life from the point of view of her cousin, and I can't help but think it would be somewhat more meaningful and compelling if one is familiar with the saint in the first place.
That being said, The Mirrored World is still a strong book. Dean's writing is lovely, and her main character – Xenia's cousin – is well-drawn. Xenia herself is somewhat vaguer, but as she becomes a holy fool, that is a wise decision, as attempting to get inside the mind of a disturbed and grieving woman who disappears and reemerges as a soothsayer seems a recipe for disaster.
The Mirrored World is an interesting look at a historical personage about whom I knew very little. Even if you have no inherent interest in St. Xenia, Dean's writing still makes this a book worth reading. Recommended.
Buy this book from:
Powells | Indiebound*
Source: Publisher.
* These links are all affiliate links. If you buy your book here I'll make a very small amount of money that goes towards hosting, giveaways, etc.
Copyright protected by Digiprove © 2012