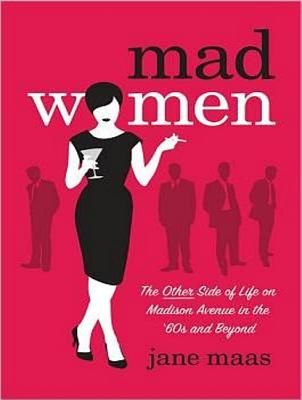 Mad Women: The Other Side of Life on Madison Avenue in the '60s and Beyond by Jane Maas, narrated by Colleen Marlo
Published in audio by Tantor Audio, published in print by Thomas Dunne Books, an imprint of Macmillan

If you reviewed an audiobook today, Thursday June 28th please leave your link in the Mr. Linky before midnight Central time (US) and you will be eligible to win a prize.
Synopsis:
America loves Mad Men, but was was it really like to be a woman on Madison Avenue  in the 1960s? Is Peggy's story accurate? Joan's? If anyone has the answers, it is Jane Maas. Maas was an advertising copywriter in the 1960s who grew to a great success within the industry, and she's not afraid to tell it like it is (and was).
Thoughts on the story:
Here's where I admit I never really got into Mad Men. I watched the first season, or most of it, on dvd, but was never really motivated to start the second season. Having watched the first season did give me a bit of background to what Maas discusses in Mad Women, but watching the show is not really a prerequisite to enjoying the book. Maas weaves feminist issues effortlessly together with advertising history and lore in an absolutely fascinating package. There's quite a bit of sex, drugs, and alcohol in Mad Women, but it is in an attempt to set the scene and explain what was really going on, not in an attempt at being salacious, or gossip-mongering.
Thoughts on the audio production:
Colleen Marlo largely became Maas in her narration, she had the same mix of confidence and knowledge that comes across in Maas's writing, making them a very good fit, and making the already interesting material all the more compelling.
Overall:
You don't need to be a fan of Mad Men to find Mad Women intereting, but it will hold a special attraction for fans wondering, "was it really like that?" Although I'm sure it is still fascinating in print, Marlo's narration is a great experience.
Buy this book from:
Powells: Audio/Print*
Indiebound: Audio/Print*
Source: Publisher.
* These links are all affiliate links. If you buy your book here I'll make a very small amount of money that goes towards hosting, giveaways, etc.
Copyright protected by Digiprove © 2012