I know some of you think that I'm gone, but I'm not! At least not completely. I'm hoping to talk more over the next week about where I plan to take this blog in 2014 and beyond, but for now I want to wrap up 2013. I can't tell you how many books I read or how many were audio or anything because sometime in September I sort of stopped actually tracking what I was reading. Oops. It happened around the same time I stopped blogging so much, I'm not really sure what happened there, other than I went on a short trip and didn't get back into the swing of things when I returned. I do know, though, that I did a whole lot of listening with all the walking, and then running, I did after I got my fitbit back in May (plus a bunch of yard work trying to get our landscaping in some semblance of order). Many of the non-audiobook picks below actually were audiobooks, including all of the nonfiction picks, but despite the fact they were well-narrated I specifically chose some of them for their contribution to the genre rather than their audio production.
Audiobooks
Parlor Games by Maryka Biaggio, narrated by Leslie Carroll
Frances and Bernard by Carlene Bauer, narrated by Angela Brazil and Stephen R. Thorne
Reconstructing Amelia by Kimberly McCreight, narrated by Khristine Hvam
Murder as a Fine Art by David Morrell, narrated by Matthew Wolf (links to Audiofile review)
Blood and Beauty by Sarah Dunant, narrated by Edoardo Ballerini
On the Come Up by Hannah Weyer, narrated by Yolonda Ross (links to Audiofile review)
Fangirl by Rainbow Rowell, narrated by Rebecca Lowman and Maxwell Caulfield
Cartwheel by Jennifer DuBois, narrated by Emily Rankin (links to Audiofile review)
Historical fiction


The Other Typist by Susanne Rindell
The Golem and the Jinni by Helene Wecker
The Queen's Gambit by Elizabeth Freemantle
The House of Special Purpose by John Boyne (links to Audiofile review)
Z: A Novel of Zelda Fitzgerald by Therese Anne Fowler
Contemporary and Literary Fiction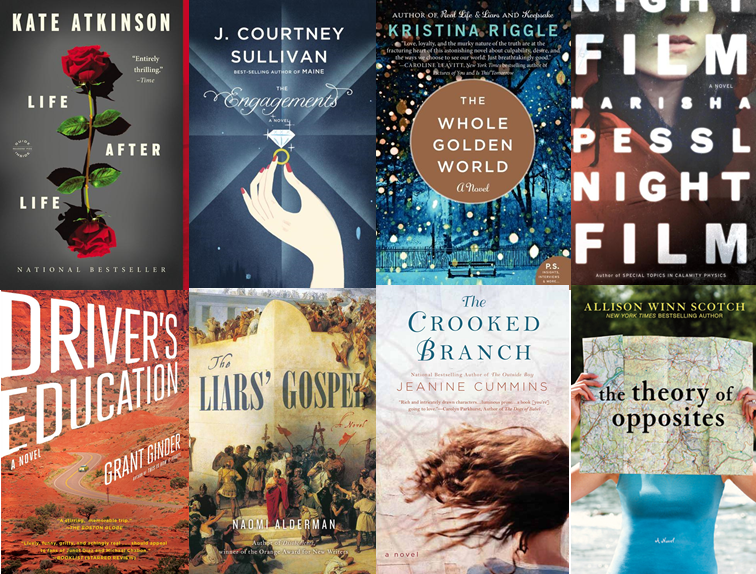 Life after Life by Kate Atkinson
The Engagements by J. Courtney Sullivan
The Whole Golden World by Kristina Riggle (links to SheKnows feature)
Night Film by Marisha Pessl
Driver's Education by Grant Ginder
The Liar's Gospel by Naomi Alderman
The Crooked Branch by Jeanine Cummins
The Theory of Opposites by Allison Winn Scotch (links to Bloggers Recommend blurb)
Middle grade and young adult fiction
The Testing by Joelle Charbonneau
Fortunately, the Milk by Neil Gaiman
The Ocean at the End of the Lane by Neil Gaiman
Nonfiction
Eighty Days: Nellie Bly and Elizabeth Bisland's History-Making Race Around the World by Matthew Goodman
Salt Sugar Fat: How the Food Giants Hooked Us by Michael Moss
Zealot: The Life and Times of Jesus of Nazareth by Reza Aslan
What were your favorite books this year?
Many of the above books were provided to me for review.
Copyright protected by Digiprove © 2013