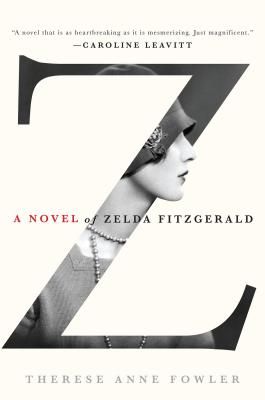 Z: A Novel of Zelda Fitzgerald by Therese Anne Fowler
Published by St. Martin's Press, an imprint of Macmillan
Depending on whose account you read, Zelda was either F. Scott Fitzgerald's muse or the thing that ruined his life and his writing career. What often gets lost in the discussion is the fact that Zelda was a smart woman and a talented writer in her own right. Therese Anne Fowler's Z remedies all of this. Z joins Zelda's story before she ever meets Scott and covers her life through their often rocky marriage through Zelda's institutionalization and Scott's death.
I loved this book from page one. Fowler's writing is lovely, and seems to bring the essence of Zelda roaring to life. My favorite thing about it, though, may have been Zelda's antipathy towards Hemingway. I do not personally have a high opinion of the man (or his writing, to be honest), so Zelda's smack talk made me feel vindicated in my opinions of him. Fowler's Hemingway is delightfully mean and vindictive, with a side of manipulative that ensnares her Scott Fitzgerald.
Of course, a novel cannot be carried on hatred of Hemingway alone. Luckily even for those of you who adore Hemingway, Z is a vividly imagined novel about one of the most fascinating women of the early 20th century. Very highly recommended.
Buy this book from:
Powells | Indiebound*
Source: Publisher.
* These links are all affiliate links. If you buy your book here I'll make a very small amount of money that goes towards hosting, giveaways, etc.
Copyright protected by Digiprove © 2013