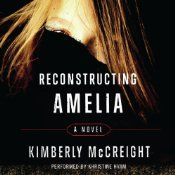 Reconstructing Amelia by Kimberly McCreight, narrated by Kristine Hvam
Published in audio by Harper Audio, published in print by Harper Books, both imprints of HarperCollins
Synopsis:
In the middle of a hugely important client meeting, Kate gets a call about her daughter. Amelia, always an exceptional student and a good kid, has been accused of cheating on an English paper and is being suspended. By the time Kate arrives at the school an hour later, there are emergency vehicles everywhere and Amelia is dead after ostensibly jumping off the roof. Kate is bereft at losing her daughter and finds herself overwhelmed by her grief, until she receives an anonymous text claiming that Amelia did not jump. As Kate begins to investigate her daughters life, she realizes just how much Amelia had been keeping secret from her, and becomes increasingly sure her daughter did not commit suicide.
Thoughts on the story:
Reconstructing Amelia alternates between Kate's point of view after Amelia's death and Amelia's leading up to her death. Amelia's sections in particularly are heartbreaking because she is a great, funny girl with some serious problems that are really not her fault and knowing that her story is going to end with her tragic death is often very difficult. I actually found myself hoping she had committed suicide or that she had fallen off the roof by accident because I just couldn't bear the thought of anyone killing her. The way this whole thing is plotted worked very well for me. Kate's discoveries often connect with what Amelia is going through in the alternate chapters, but not so much that anything feels redundant. It is overall a very well put together story.
Thoughts on the audio production:
This is the first time I've listened to Kristine Hvam in a full-length production and I was very impressed. She introduces slight variations in her voice to differentiate between Kate and Amelia, so that even if you miss the chapter tag of the character and date you can still figure out easily which character's point of view you are in (even without the fairly obvious context clues). About the dates in the chapter titles, though… That was the one thing that didn't work for me as well consuming this as an audiobook versus a print book. I did not pay enough attention to the dates when I heard them that by the next time around I could remember what they were, and audio of course makes it more difficult to go back and check. Luckily both story lines progress in a linear fashion, so the only real issue was not knowing quite how much time elapsed over the course of the story.
Overall:
Loved! This is a good one if you want to cause some obsessive listening. The book is well put together and the narration is top-notch. Highly recommended.
Buy this book from:
Powells: Audio*
Indiebound: Audio*
Downpour Audio
Source: Publisher.
* These links are all affiliate links. If you buy your book here I'll make a very small amount of money that goes towards hosting, giveaways, etc.
Sound Bytes is a meme that occurs every Friday! I encourage you to review your audiobooks on Fridays and include the link here. If you have reviewed an audiobook earlier in the week, please feel free to link that review as well. Thanks to Pam for creating the button.
Copyright protected by Digiprove © 2013