If you wrote a post on this or any of my other discussion topics today, Wednesday June 19th please leave your link in the Mr. Linky.
Here's something quick and easy for the middle of the week, just a short meme. Just copy and paste to your own post (and, you know, obviously change the answers so they're yours and not mine).
Current/most recent audiobook:
Stormbringers by Philippa Gregory, narrated by Nicola Barber
Impressions:
Barber does a great job bringing the humor of the secondary characters to the forefront when it could easily be lost. HOWEVER, I made a point of doing the audio for Stormbringers because I really enjoyed the audio of the first book in the series, Changeling. The narrator of the first book was different, though, and I'm still in the phase where I am mourning a bit for him, because he did a great job as well.
Current/most recent favorite audiobook:
My favorite recent audiobook is one that I'm pretty sure I left off of Monday's post. Oops! But it would be Reconstructing Amelia by Kimberly McCreight, narrated by Khristine Hvam.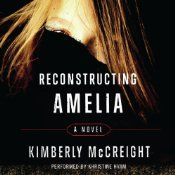 I was also pleasantly surprised by how much I enjoyed consuming Dan Brown's latest, Inferno, in audio. I think audio is the way to read Dan Brown and narrator Paul Michael is a perfect fit for how I imagine Langdon.
Favorite narrator you've discovered recently:
Khristine Hvam! I know that everyone else (especially if you listen to a lot of YA audio) already knows Khristine Hvam, but I hadn't had the pleasure until recently. Technically I heard her briefly when she was part of the ensemble cast of Emma Donoghue's Astray, but I didn't really get to see (okay, hear) her shine until Reconstructing Amelia.
One title from your TBL (to be listened) stack, or your audio wishlist:
It is one of the newest things in my TBL stack, but I am dying to get to Fay Weldon's Long Live the King, narrated by Katherine Kellgren. I listened to the first book, Habits of the House, and thought it was just wonderful, I'm excited for this one.
Copyright protected by Digiprove © 2013