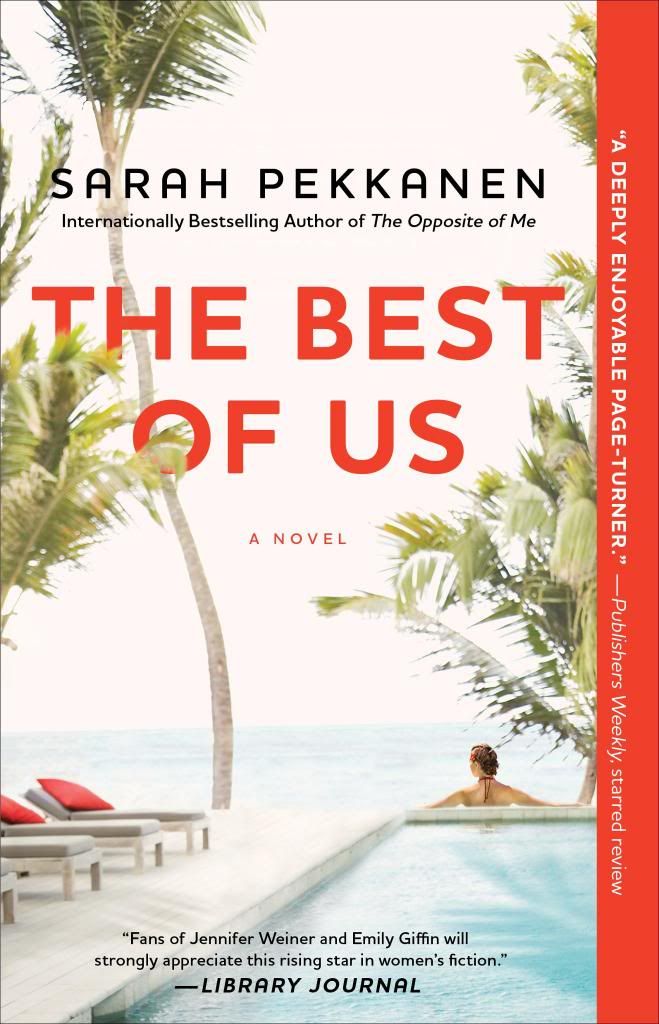 The Best of Us by Sarah Pekkanen
Published by Washington Square Press, an imprint of Simon & Schuster
**In the interest of full disclosure, I was a one-time beta reader for the first 75 or so pages of this book. I don't believe that in any way changes my opinion of the finished product, as is evidenced by comparing my review of The Best of Us to my reviews of Pekkanen's previous books.**
One advantage of making friends with that brilliant yet painfully awkward guy in college is that someday when he's filthy rich, he might just invite for on an all-expenses paid trip to a private villa in Jamaica for his 35th birthday. Tina, Allie, and Savannah have been friends since college when they – particularly Allie – befriended Dwight. Now they are in their mid-30s and haven't always kept up with one another as well as they would have liked. They all have their own problems these days, though.
Tina and Allie are both mothers, although Allie seems to have an easier time with her two older children than Tina does with her herd of young ones. At Tina's house, chaos reigns and she feels as if she hasn't had a good shower or a decent night's sleep in years. Allie may appear to have a perfect house, family, and marriage, but she has recently discovered that her birth father and his father both died of Lou Gehrig's disease and doesn't know how to tell her husband about her fears. Savannah is happy without children, but she is also going through a painful divorce after her husband cheated on her. Pekkanen focuses on the women in her stories, so we don't as much insight as to where Dwight is emotionally, but we do get to know his wife, Pauline, and she is stressed out about her inability to have a child.
One of the things I love most about Pekkanen is the way she writes about women in different stages of life, with the different relationships that make their lives what they are. In The Opposite of Me it is a young woman connecting with her family, particularly her sister; in These Girls it is the power of female friendship, and in Skipping a Beat it is the dissolution of a marriage. In The Best of Us, Pekkanen manages to cover family, marriage, friendship, and life with children, and do nearly all of it with her characters on a couples' vacation in Jamaica. The dreams, goals, and fears of each of women on the trip bring them into occasional conflict with one another, enough conflict to keep The Best of Us interesting, but not so much as to become melodramatic.
Dealing with children, marriage, health, and friendship, The Best of Us is another winner from Sarah Pekkanen. Highly recommended.
Buy this book from:
Powells | Indiebound*
Source: Publisher, via Edelweiss.
* These links are all affiliate links. If you buy your book here I'll make a very small amount of money that goes towards hosting, giveaways, etc.
Copyright protected by Digiprove © 2013