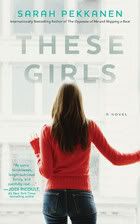 These Girls by Sarah Pekkanen
Published by Washington Square Press, an imprint of Simon & Schuster
Living in New York and working at a lifestyle magazine like Gloss seems like it should be an incredibly glamorous life, but for roommates Cate and Renee, it isn't really. Instead it is a life of long hours, intense competition, and still often struggling to make rent. Cate is the new features editor, but is feeling the pressure to prove herself; Renee is angling for a job as beauty editor at Gloss, but is worried that her weight – average, but much larger than most at Gloss – may be a hindrance in landing the job.
When Trey, a handsome writer that both women admire, brings his depressed and damaged sister Abby and asks if she can stay with Cate and Renee while he is on assignment, it seems that life can only bring them more confusion. Instead, though, having Abby living with them not only helps bond Cate and Renee, but gives them both a new woman with whom to form a beautiful, meaningful friendship.
Pekkanen's latest, These Girls is a beautiful testament to the strength and depth of female friendships. Cate and Renee are not particularly close at the beginning, but in sharing with Abby in her sorrow, they begin to reveal themselves to one another and, in doing so, bind themselves closely together. These Girls is reminiscent of the relationship between Lindsay and Alex in The Opposite of Me, as the girls draw out of their own heads and lives into realization of the challenges that their roommates face, and begin to truly empathize with and support one another.
It is difficult not to get caught up in Pekkanen's books, her characters are incredibly vivid and real, both likable and sufficiently flawed to be fully human. These Girls sweeps the reader up into Cate, Renee, and Abby's world, to the point where their pain will, to some extent be the reader's own pain. You may very well cry, but it is absolutely worth it. Highly recommended.
Buy this book from:
Powells | Indiebound*
Source: Author.
* These links are all affiliate links. If you buy your book here I'll make a very small amount of money that goes towards hosting, giveaways, etc.
Copyright protected by Digiprove © 2012