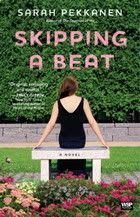 Skipping a Beat by Sarah Pekkanen
Published by Washington Square Press, an imprint of Simon & Schuster

When Julia's husband dies, her whole life changes, although not quite the way you might expect. Julia's incredibly successful, self-made husband Michael suffers a cardiac arrest in the middle of a board meeting and dies for over four minutes. Their marriage has been strained, to say the least, for several years, but it is Michael's behavior after he is brought back to life that pushes their relationship to the breaking point. After being temporarily dead, Michael decides that he needs to make things right. In his race for the top he stepped on lots of people and did not spend nearly the time he should have with Julia. Hence his split-second decision to sell his company and give all of his money away to charity. Unsure if she even knows her husband anymore, Julia decides that this is all the last straw, although she agrees to give Michael the three weeks he asks for to make it up to her.
I would say that Sarah Pekkanen has done it again, but actually with Skipping a Beat she has done something different – and even more fabulous – than she did with her first book, The Opposite of Me. Everyone who has ever been in any relationship understands things going slowly cold, two people slowly growing apart. It happens in friendships, romantic relationships, and it happens in Michael and Julia's marriage. The universality of the situation is incredibly appealing about the book, but the story could have ended up trite. Universal can also mean overdone.
I don't know exactly when Julia became so incredibly real to me, but she absolutely was. Every time she hurt, I hurt; every time she felt hope, I felt hope. Books don't often make me cry, other than the end of the 5th and 6th Harry Potter books. Skipping a Beat, though, made me sob. For 25 pages straight. That is far longer than I cried during either Harry Potter, and I had spent thousands of pages caring about those characters. I cared about Julia and her marriage to Michael in a way that is rare among the 200+ books I read in a year. Plus there was the fact that I started the book late at night when I was sick and exhausted and finished it less than 12 hours later, because I was just that completely engaged with their story.
I don't think I can recommend this highly enough.
Buy this book from:
Powells | Indiebound | Amazon*
Source: Author's publicist. This review also makes me eligible in a sweepstakes from the publisher.
* These links are all affiliate links. If you buy your book here I'll make a very small amount of money that goes towards hosting, giveaways, etc.
Copyright protected by Digiprove © 2011