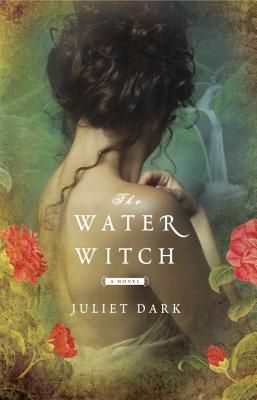 The Water Witch by Juliet Dark
Published by Ballantine Books, an imprint of Random House

This is the second book in the Fairwick Chronicles series. I have previously reviewed the first book, The Demon Lover. This review may contain spoilers for The Demon Lover.
From the publisher:
After casting out a dark spirit, Callie McFay, a professor of gothic literature, has at last restored a semblance of calm to her rambling Victorian house. But in the nearby thicket of the honeysuckle forest, and in the currents of the rushing Undine stream, more trouble is stirring. . . .

The enchanted town of Fairwick's dazzling mix of mythical creatures has come under siege from the Grove: a sinister group of witches determined to banish the fey back to their ancestral land. With factions turning on one another, all are cruelly forced to take sides. Callie's grandmother, a prominent Grove member, demands her granddaughter's compliance, but half-witch/half-fey Callie can hardly betray her friends and colleagues at the college. To stave off disaster, Callie enlists Duncan Laird, an alluring seductive academic who cultivates her vast magical potential, but to what end? Deeply conflicted, Callie struggles to save her beloved Fairwick, dangerously pushing her extraordinary powers to the limit—risking all, even the needs of her own passionate heart.
I don't really have ALL THE THINGS to say about The Water Witch, it is definitely the second book in a trilogy, more bridge than anything else. The events of The Water Witch pick up right after those in The Demon Lover and, honestly, not a whole lot of new stuff happens for much of the book and, when things do start happening, they seem to be more a set up for the third book than anything else.
That being said, The Water Witch is still totally engaging and if its purpose is to make me want to read the third book in the series, coming out in September, then it did its job well. Recommended.
For more information, check out the publisher's page.
Source: Publisher, via LibraryThing Early Reviewers.

Copyright protected by Digiprove © 2013