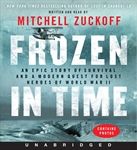 Frozen in Time: An Epic Story of Survival and a Modern Quest for Lost Heroes of World War II by Mitchell Zuckoff, narrated by Mitchell Zuckoff
Published in audio by Harper Audio, published in print by Harper, both imprints of HarperCollins

Synopsis:
From the publisher:
On November 5, 1942, a U.S. cargo plane slammed into the Greenland ice cap. Four days later, a B-17 on the search-and-rescue mission also crashed. Miraculously, all nine men on the B-17 survived. The U.S. military launched a second daring rescue operation, but the Grumman Duck amphibious plane sent to find the men vanished.

In this thrilling adventure, Mitchell Zuckoff offers a spellbinding account of these harrowing crashes and the fate of the survivors and their would-be saviors. Frozen in Time places us at the center of a group of valiant airmen fighting to stay alive through 148 days of a brutal Arctic winter until an expedition attempts to bring them to safety. But that is only part of the story. In present-day Greenland, Zuckoff joins the Coast Guard and North South Polar Inc. on a dangerous expedition to recover the remains of the lost plane's crew.
Thoughts on the story:
I picked up Frozen in Time primarily because I really wanted to read Zuckoff's Lost in Shangri-La and never managed to get around to it. I should have known that a World War II-era rescue mission wasn't really my thing, but I really didn't think that far. All the crashes and missing planes got a bit hard to keep track of, but overall I was surprised how much Zuckoff managed to pull me into the story.
Thoughts on the audio production:
Zuckoff does a very competent job with the audio production. I can see where a professional narrator might have made the story all the more compelling, but on the other hand nothing in his narration detracted from his story.
Overall:
If you are into search and rescue or WWII military operations you may be more intrigued in this story than I was, but regardless it is a solid work of nonfiction.
For more, please see the publisher's page.
Source: publisher.

Copyright protected by Digiprove © 2013