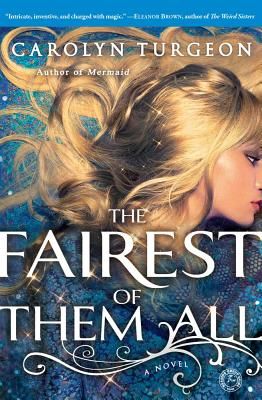 The Fairest of Them All by Carolyn Turgeon
Published by Touchstone Books, an imprint of Simon & Schuster
Rapunzel is happy living with her adopted mother in the forest. They help the women of the kingdom who are wronged by the men in their lives. Still, at times Rapunzel wishes to see the world beyond her home. One day as a group of men travels through the forest, Rapunzel sings out to one of them, calling him to her and causing him to fall in love with her. The man, it turns out, is the prince – and he is engaged, a fact Rapunzel only finds out after the two share a night of passion. Before long, the prince and his new wife have a daughter they have named Snow White. The prince's marriage is not the end of the road for him and Rapunzel but it is Rapunzel and Snow White who truly have a dramatic future ahead of them.
So, this is a minor spoiler I suppose, but you can't really discuss The Fairest of Them All without knowing this, so… Rapunzel eventually ends up at Snow's stepmother. You know, the evil stepmother? Yeah, that's RAPUNZEL and Turgeon's main character. And you know what? It is a brilliant twist. Rapunzel is a hugely sympathetic main character and although her behavior towards Snow becomes traditionally malicious, Turgeon writes her fully enough that the reader can understand how Rapunzel got to that point.
An inventive and wonderful twist on a classic tale.
For more information, please see the publisher's page.
Source: Publisher.
Copyright protected by Digiprove © 2013