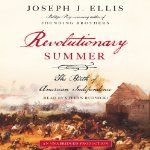 Revolutionary Summer: The Birth of American Independence by Joseph J. Ellis, narrated by Stefan Rudnicki
Published in audio by Random House Audio, published in print by Knopf, both imprints of Random House

Synopsis:
From the publisher:
The summer months of 1776 witnessed the most consequential events in the story of our country's founding. While the thirteen colonies came together and agreed to secede from the British Empire, the British were dispatching the largest armada ever to cross the Atlantic to crush the rebellion in the cradle. The Continental Congress and the Continental Army were forced to make decisions on the run, improvising as history congealed around them. In a brilliant and seamless narrative, Ellis meticulously examines the most influential figures in this propitious moment, including George Washington, John Adams, Thomas Jefferson, Benjamin Franklin, and Britain's Admiral Lord Richard and General William Howe. He weaves together the political and military experiences as two sides of a single story, and shows how events on one front influenced outcomes on the other.
Thoughts on the story:
I am seriously impressed by Revolutionary Summer. It is a relatively brief book, just about seven hours in audio, but Ellis conveys a lot of information – including much that is glossed over in most accounts – in a very clear manner. He intertwines both the political and the military happenings of that summer, showing readers how they interrelate and influence one another. It is well-organized and informative, really a top-notch history.
Thoughts on the audio production:
Rudnicki has a wonderfully resonant voice and presents Revolutionary Summer clearly, adding just the right amount of audible interest.
Overall:
A wonderful audiobook and a wonderful look at American history. A great listen for 4th of July weekend.
For more information, please see the publisher's page.
Source: Publisher

Sound Bytes is a meme that occurs every Friday! I encourage you to review your audiobooks on Fridays and include the link here. If you have reviewed an audiobook earlier in the week, please feel free to link that review as well. Thanks to Pam for creating the button.
Copyright protected by Digiprove © 2013