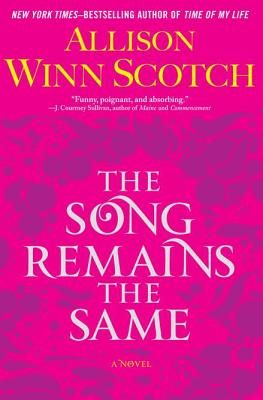 The Song Remains the Same by Allison Winn Scotch
Published by Putnam Books, an imprint of Penguin
When Nell Slattery wakes up in a hospital in Iowa, she knows nothing. Not how she got there, not who the people are surrounding her, not who she is. It was a flight from New York to San Francisco, and when it crashed she was one of only two survivors, the other being her B-list actor seatmate, Anderson Carroll. Although Anderson remembers horrible detail, Nell's amnesia does not seem to be going away, not even in regards to her life before the crash. Luckily, Nell has her mother, husband, and sister/business partner around her to help fill her in on who she used to be. Unfortunately, each of these people has his or her own perspective on Nell's life, what it was and what they wish it had been, and their stories for Nell reflect these wished for realities. Now, all Nell knows is that she knows nothing, and that she cannot fully trust what is told to her. It will be up to her and any outside help she can muster to sort out the life she used to lead, and the one she will lead going forward.
As always, Allison Winn Scotch has created a complex and moving story of identity and choosing what life to live. Nell's story is affecting, not as much the tragic accident which she can't remember, but her journey to remembrance, the decisions she must make about where to conform to what she knows of her former life and where to attempt to be a new and improved person. Certainly a story about a tragic accident and amnesia could have easily been trite, in soap opera territory, but Winn Scotch deftly avoids these traps and gives readers a book that is authentic, without resorting to cookie cutter genre conventions.
The Song Remains The Same is a new take on amnesia stories, and one written with the heart that I have come to expect from Allison Winn Scotch. Highly recommended.
Buy this book from:
Powells | Indiebound*
Source: Author.
* These links are all affiliate links. If you buy your book here I'll make a very small amount of money that goes towards hosting, giveaways, etc.
Copyright protected by Digiprove © 2012