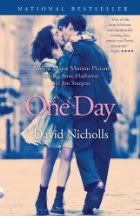 One Day by David Nicholls
Published by Vintage Books, an imprint of Random House

One Day is a book with a novel premise. On July 15, 1988, Dexter and Emma finally have an almost-fling, after Emma having had a crush on Dexter for years. Luckily, they end their near-tryst as friends, and One Day continues to check in on them every year on July 15; some years they are moving together, others they are moving apart, but always they mean something to each other.
The concept is fabulous, but it also has inherent problems. Only checking in one day per year means that there is always a lot of back story to fill in during the in between periods, which leads to quite a few letters as literary devices and exposition disguised as internal monologue. This made Dexter and Emma's story much less powerful than it might otherwise have been. On the other hand, by the end it is clear just how powerful Nicholls' structure truly is.
In all honesty, I didn't totally love One Day, primarily because of the problems with the structure listed above. However, I'm very excited about the movie coming out on Friday, August 19th (website | Facebook page). I think much of what required exposition in print can be conveyed with visual cues such as setting and body language in the movie.
________________
On August 3, I was lucky enough, along with a group of bloggers, to be able to speak with David Nicholls about the book and movie. My portion of that interview can be found here.
I also have a prize pack provided by Focus Features for one lucky reader, filled with:
A paperback copy of One Day, movie tie-in edition
Clear cosmetic case
Necklace
Moleskin Journal
(prize pack valued at $30.95)
To enter, fill out the form below by 11:59 pm Central on Monday, August 15. US-only, please.
Buy this book from:
Powells | Indiebound*
Source: Big Honcho Media.
* These links are all affiliate links. If you buy your book here I'll make a very small amount of money that goes towards hosting, giveaways, etc.
Copyright protected by Digiprove © 2011