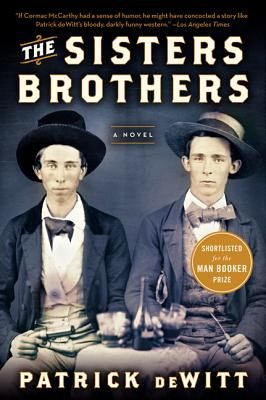 The Sisters Brothers by Patrick deWitt
Published by Ecco, an imprint of HarperCollins
From the publisher:
Hermann Kermit Warm is going to die. The enigmatic and powerful man known only as the Commodore has ordered it, and his henchmen, Eli and Charlie Sisters, will make sure of it. Though Eli doesn't share his brother's appetite for whiskey and killing, he's never known anything else. But their prey isn't an easy mark, and on the road from Oregon City to Warm's gold-mining claim outside Sacramento, Eli begins to question what he does for a living–and whom he does it for.
So, there has been much love for The Sisters Brothers, but you just aren't going to find it here. The writing is solid and the characterizations good, but something about deWitt's novel just didn't sparkle for me. Honestly, I think that the issue is that I'm just not into Westerns. I may have had the idea that The Sisters Brothers wasn't really a proper Western – and perhaps it isn't, I suppose I don't really know enough about the conventions of the genre to  say with any authority – but it still just didn't do it for me. Many people found it extremely funny, but deWitt's humor seems not really to mesh with my own, so it fell flat for me.While it was easy to turn the pages, it was even easier to put the book down, and nothing in particular compelled me to pick it back up.
I may be in the minority here, but I failed to love The Sisters Brothers.
Buy this book from:
Powells | Indiebound*
Source: Publisher.
* These links are all affiliate links. If you buy your book here I'll make a very small amount of money that goes towards hosting, giveaways, etc.
Copyright protected by Digiprove © 2012