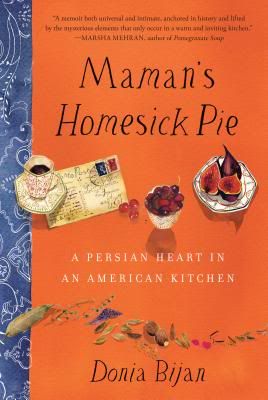 Maman's Homesick Pie: A Persian Heart in an American Kitchen by Donia Bijan
Published by Algonquin Books, an imprint of Workman Pub
From the publisher:
For Donia Bijan's family, food has been the language they use to tell their stories and to communicate their love. In 1978, when the Islamic revolution in Iran threatened their safety, they fled to California's Bay Area, where the familiar flavors of Bijan's mother's cooking formed a bridge to the life they left behind. Now, through the prism of food, award-winning chef Donia Bijan unwinds her own story, finding that at the heart of it all is her mother, whose love and support enabled Bijan to realize her dreams.
I was expecting Bijan's memoir to focus more directly on her mother based on the title. There was definitely a strong thread about her parents and their life in Iran and attempts to adjust to life in America. However, more than anything, Maman's Homesick Pie is about Bijan herself, how she came to create her unique blend of Persian, American, and French food.
Despite Maman's Homesick Pie not being what I expected, it was still a lovely, heartfelt memoir. It is a slim tome, so Bijan does not always go into great depth of detail about people, places, or events, but what she does write is so evocative, that the sparseness of some of the details doesn't really matter.
Foodies and those who love stories about identity will greatly enjoy Maman's Homesick Pie.
Buy this book from:
Powells | Indiebound*
Source: Publisher for BOOK CLUB.
* These links are all affiliate links. If you buy your book here I'll make a very small amount of money that goes towards hosting, giveaways, etc.
Copyright protected by Digiprove © 2011