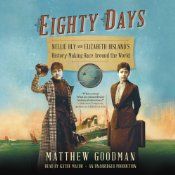 Eighty Days: Nellie Bly and Elizabeth Bisland's History-Making Race Around the World by Matthew Goodman, narrated by Kathe Mazur
Published in audio by Random House Audio, published in print by Ballantine Books, an imprint of Random House, both imprints of Random House

Synopsis:
November 14, 1889, Nellie Bly set off to travel around the world in less than eighty days, an attempt to break the record set by Jules Verne's fictional character Phileas Fogg from the novel Around the World in Eighty Days. Bly's travel was paid for by the paper she worked for, Joseph Pulitzer's World paper in New York. Although the idea originated with her, by the end of the day Nellie Bly was not the only young woman traveling around the world. The publishers of The Cosmopolitan decided to send Elizabeth Bisland, who wrote a books column for the magazine, on her own journey heading west instead of east, in at attempt to beat not only Phileas Fogg, but Nellie Bly as well.
Thoughts on the story:
I love it when authors find fascinating historical events about which I know nothing and tell it really well. I knew a bit about Nellie Bly before Eighty Days, but interestingly not about her race around the world. My knowledge was limited to her expose on the insane asylum on Blackwell Island, a reference it is possible I learned from my massive The West Wing marathon earlier this year. Goodman lays his story out very clearly, alternating between the two women's stories in a way that is faithful to the timeline while still maintaining a good flow. While the book itself is rather long, it has a good pace and is continually interesting.
Thoughts on the audio production:
Kathe Mazur does a wonderful job narrating. Like Goodman's writing itself, she maintains a good pace and, while she doesn't do much vocal differentiation between the stories, it isn't really necessary or called for here, and there is no problem keeping the narrative straight.
For more, please see my review for Audiofile Magazine.
Overall:
A long book, but well worth the read. Fascinating and highly recommended.
Buy this book from:
Powells: Print*
Indiebound: Print*
Audible.com

Source: Audiofile Magazine.
* These links are all affiliate links. If you buy your book here I'll make a very small amount of money that goes towards hosting, giveaways, etc.
Sound Bytes is a meme that occurs every Friday! I encourage you to review your audiobooks on Fridays and include the link here. If you have reviewed an audiobook earlier in the week, please feel free to link that review as well. Thanks to Pam for creating the button.
Copyright protected by Digiprove © 2013