Welcome to Saturday Story Spotlight, my feature where I discuss books my husband and I are reading with our children. These are books that they, we, or all of us particularly enjoy.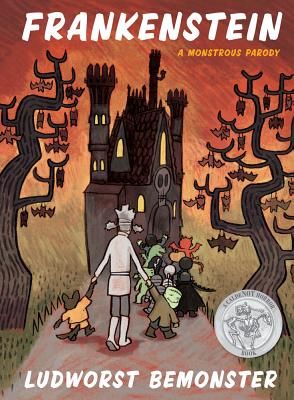 Frankenstein: A Monstrous Parody by Ludworst Bemonster (Rick Walton and Nathan Hale)
Published by Feiwel & Friends, an imprint of Macmillan

I doubt I am alone in this, but when I was young I simply adored Ludwig Bemelmans's Madeleine. In Frankenstein, Rick Walton and Nathan Hale – writing under the pseudonym Ludworst Bemonster – parodies the beloved childhood classic to monstrous effect. Their main character, as you might expect, is a little Frankenstein, although instead of the littlest of them, he is the ugliest one.
The first portion of Frankenstein is particularly clever. Bemonster has a good ear for the rhyme and meter of the original Madeleine and the story is cute. The monsters's teacher Miss Devel wakes one night, certain that something is quite wrong and finds that Frankenstein has, quite literally, lost his head.
Frankenstein has some really great 'spooky' vocabulary. Things are grotesque and gory, full of shrieks and howls and groans, the monsters torment Miss Devel. The plot loses a bit of steam at the end, though, particularly after what should be the end of the book. There are two more pages of illustration that are so anti-climatic that they nearly ruin the entire book.
Of course, that is all from an adult's point of view. Daniel, who is now three years old and has never read Madeleine, thoroughly enjoys Frankenstein. He has pronounced it his "favorite," seemingly due to the good cadence and rhyme, as well as the cutely spooky illustrations.
Buy this book from:
Powells*| Indiebound*

Source: Publisher
* These links are all affiliate links. If you buy your book here I'll make a very small amount of money that goes towards hosting, giveaways, etc.
Copyright protected by Digiprove © 2012