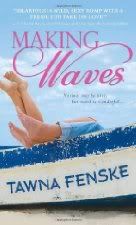 Making Waves by Tawna Fenske
Published by Sourcebooks Casablanca, an imprint of Sourcebooks

They were married within five minutes of meeting. Or, at least, they pretended to be married, in order to win a newlywed game and split the prize money. Alex and Juli are on St. Johns for two very different reasons: Juli to scatter her uncle's ashes, Alex to play pirate and raid his ex-boss's ship with a gang of fellow former employees. Although their paths really shouldn't keep crossing, they do, to sexy and hilarious results.
I am not a habitual reader of romance, so I'm a bit hard-pressed (I'm sure Fenske would find this phrase hilarious) to give Making Waves the review it deserves. There were some things that absolutely made me roll my eyes, like Juli's ultra-convenient shocking secret, but I have no idea how accepted this sort of thing is in the realm of romance, particularly Fenske's subgenre of humorous romance. After giving it some thought, I decided that this was meant to be a fun, somewhat escapist read, and so I wouldn't let those sorts of coincidences bother me, whatever the genre conventions.
And really, fun and escapist describes Making Waves perfectly. After following Fenke for the last year on The Debutante Ball and occasionally on her personal blog Don't Pet Me, I'm Writing, I was pretty confident that Making Waves would be hilarious and a little bit dirty, and it lived up to my expectations 100%. This is an enjoyable frolic with a fun, flirty romance, great for reliving your memories of the warm summer sun this fall.
Buy this book from:
Powells | Indiebound*
Source: Publisher.
* These links are all affiliate links. If you buy your book here I'll make a very small amount of money that goes towards hosting, giveaways, etc.
Copyright protected by Digiprove © 2011