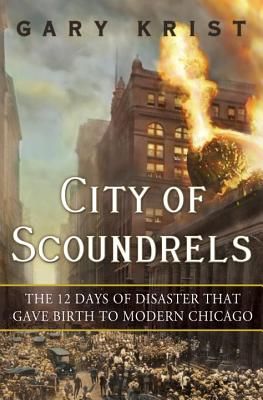 City of Scoundrels: The 12 Days of Disaster That Gave Birth to Modern Chicago by Gary Krist
Published by Crown Books, an imprint of Random House
At the beginning of 1919, Chicago seemed like a city poised for a wonderful future. It was a time before the Great Depression and Prohibition, and after the end of the Great War, and the mayor had great plans to revolutionize and beautify the city, a feeling of optimism was only to be expected. For the first half of the year, it appeared that this optimism might not be misplaced, but over the summer everything changed.
It started on July 21, 1919. Along the lake shore, the Goodyear company was showing off their new blimp, The Wingfoot Express. The blimp made several runs throughout the day, the more influential people who saw it, the better the publicity for the company. Shortly before 5 pm, the blimp began its last run of the day, flying out over the Loop, the better to be seen. While they were over the city, however, the blimp caught fire, and the passengers and crew were forced to jump, hoping their parachutes would be enough to save them. It was not only those in the blimp who were injured or killed; the blimp also hit part of the Illinois Trust bank, causing an explosion and killing many who were there at work.
Devastating as this disaster was, there was worse to come for Chicago over the next two weeks, including a sensational child murder, a transit strike, and a deadly and divisive race riot, all exacerbated by politicians who failed to act as quickly or decisively as was needed.
In City of Scoundrels, Krist describes the genesis of these disasters, the ways they fed into one another, and the ways the influenced Chicago throughout the remainder of the 20th century. He writes with a style that is reminiscent of Erik Larson's modern classic of Chicago history, The Devil in the White City. If anything, in fact, Krist's book is more accessibly written and easier to read, despite the lack of a serial killer in his narrative. The events of that summer are laid out in a clear and engaging manner, given proper context without going into extraneous and distracting details.
City of Scoundrels offers an instructive and fascinating look into the history of Chicago. Chicagoans in particular should read this book, but anyone who enjoys a good narrative history is likely to be intrigued. Highly recommended.
Buy this book from:
Powells | Indiebound*
Source: Publisher, via Edelweiss.
* These links are all affiliate links. If you buy your book here I'll make a very small amount of money that goes towards hosting, giveaways, etc.
Copyright protected by Digiprove © 2012