On Valentine's Day I didn't get flowers. In fact, I'm pretty sure I didn't even get a card. What I did get, though, was a hint:
"I believe a strong woman may be stronger than a man, particularly if she happens to have love in her heart. I guess a loving woman is indestructible."
A quote from my favorite book, John Steinbeck's East of Eden! Unfortunately I wasn't able to find out at the time exactly what the quote meant, because my husband had the brainstorm for this gift very shortly before Valentine's Day, and it wouldn't be ready for some time because whatever it was had to be made specially.
Well, last week my gift showed up.
Pretty wrapping! Let's open it and see what it is.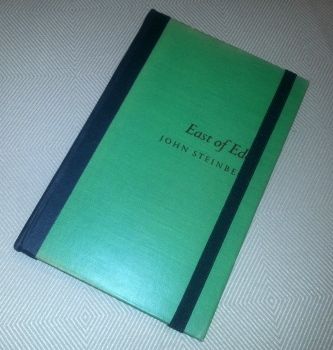 Hmm, an old East of Eden cover, you say?
Ah! A REALLY COOL cover for my Nook tablet from Honeysuckle Salvage. I love it, my precious. It adds just the right amount of heft to this seriously light ereader and the texture appeals to my physical book-loving sensibilities. Not least, it keeps my preschooler from noticing my Nook and stealing it to play games and watch Netflix (because last time he took it, he managed to completely reset it, a three step process).
The East of Eden cover wasn't actually even in the Honeysuckle Salvage store, which is part of what took the better part of a month to get it to me. They actually went out and tracked down a cover so that my husband could give me the cover of my favorite book, instead of just any old thing.
My new ereader cover has sparked in me a renewed lover of my ereader, so now I can read ALL THE THINGS.
If you were to choose a book to use for something like this, what would you pick?
Disclaimer: I wrote about this gift because it is cool and I love it. I was not asked to write about this by Honeysuckle Salvage, nor was I offered any inducements to do so.
Copyright protected by Digiprove © 2013