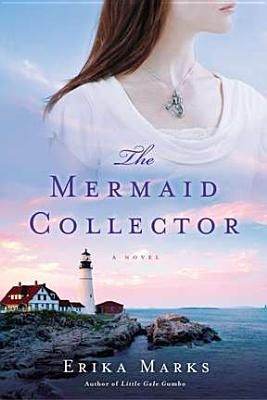 The Mermaid Collector by Erika Marks
Published by NAL Trade, an imprint of Penguin
Every summer, Cradle Harbor, Maine holds their beloved Mermaid Festival to commemorate the anniversary of the tragic Mermaid Mutiny, when some of the town's men – including the lighthouse keeper – waded out into the sea in search of the mermaids they had once seen. For Tess, this year's Mermaid Festival is particularly meaningful, as her sculpture has been commissioned by the town that once shunned her mother. Her plan of proving to Cradle Harbor her and her mother's worth is derailed when Tom Grace comes to town after inheriting the lighthouse keeper's house. Tom is hoping that Cradle Harbor will allow him and his younger brother Dean to start fresh, that removing Dean from his familiar environment will allow him to finally get the help he needs. Both Tess and Tom, though, have different and deeper needs than they realize, emotional holes in each of their lives that, just maybe, can be filled by each other.
The Mermaid Collector is an altogether enjoyable story. Tess is often prickly, but also easy to empathize with, and your heart cannot help but go out to Tom, who sees his own actions at the root of his brother's problems and so is determined to fix them. Their romance is perhaps a bit too quick – they seem to cleave together almost instantly – but it is realistically rocky, particularly considering how little they know about one another. The part of this book that is really special, however, is the historical plot line.
Lydia Sprague is not a fan of the water, but the man she loves is a sailor-turned-lighthouse keeper. At least until he disappears when on a brief sailing expedition with the three other men on board the boat. It is from their story that the Mermaid Festival stems, and their story is teased and woven beautifully throughout Tess and Tom's story. I could have easily read an entire novel solely about Lydia and her life, but her story was even more effect interspersed with Tess's.
The Mermaid Collector is as lovely as the coastal Maine landscape it evokes. Recommended.
Buy this book from:
Powells | Indiebound*
Source: Publisher.
* These links are all affiliate links. If you buy your book here I'll make a very small amount of money that goes towards hosting, giveaways, etc.
Copyright protected by Digiprove © 2012