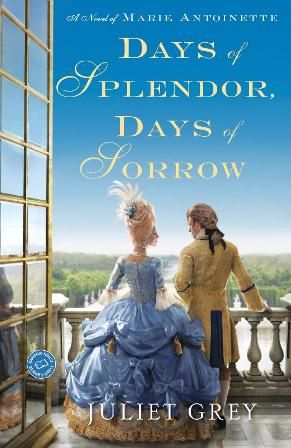 Days of Splendor, Days of Sorrow by Juliet Grey
Published by Ballantine Books, an imprint of Random House
This is the second book in the Marie Antoinette series. I have previously reviewed the first book, Becoming Marie Antoinette.
Marie Antoinette is now Queen of France, following the death of her husband's grandfather. However, she is not yet a mother, nor has she even been given the opportunity to become one. As a women who both wants to become a mother and a queen whose duty is to become one, this childlessness leaves a hole in the queen's heart. For Marie Antoinette, that hole is partially filled with parties, Le Petit Trianon, card games, and extravagant coiffures and gowns. Her extravagances lead her to be increasingly despised, particularly as members of the extended royal family create a smear campaign against her as a way to weaken the king's authority and enhance their own.
Days of Splendor, Days of Sorrow spans the time between when Louis and Marie Antoinette become king and queen and the meeting of the National Assembly and the storming of the Bastille. Over the course of the book Marie Antoinette becomes a mother and matures, but if anything her reputation with the French public becomes worse. As in Becoming Marie Antoinette, Juliet Grey has transported her readers into 18th century French court life and particularly Marie Antoinette's consciousness. I really appreciate that Grey has decided to take a trilogy to tell Marie Antoinette's story, instead of simply a single novel, because it really helps readers understand how and where her world went so terribly wrong. Not only are Marie Antoinette's motivations – particularly for her party girl ways early in her queenship – more easily understood, but so are the reasons for the French Revolution. In fact, I think only in nonfiction have I seen the causes of the French Revolution so well laid out.
This period of Marie Antoinette's initial queenship is perhaps not the most exciting period of her life, but Grey manages to keep Days of Splendor, Days of Sorrow interesting. I appreciate that the books in this series could be read as standalones if one has a basic knowledge of the history, but they are undoubtedly more effective when read in series order. I cannot wait for the The Last October Sky, the last book in this series, which is scheduled to be published in 2013. If these first two books are any indication, The Last October Sky will be a powerful read.
Highly recommended.
Buy this book from:
Powells | Indiebound*
Source: Publisher.
* These links are all affiliate links. If you buy your book here I'll make a very small amount of money that goes towards hosting, giveaways, etc.
Copyright protected by Digiprove © 2012