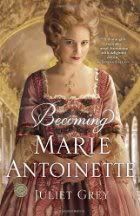 Becoming Marie Antoinette by Juliet Grey
Published by Ballantine Books, an imprint of Random House

Marie Antoinette is likely the best known, or at least most notorious, of all French queens. She is often reviled as an out-of-touch aristocrat who would flippantly tell her starving subjects to simply eat cake; she absolutely did not say this, by the way, Rousseau recorded them as being spoken by a 'great princess' when she was the nine-year-old Maria Antonia, Archduchess of Austria.
Many novels about Marie Antoinette begin at the moment she leaves Austria for France, some even include that tragic moment where she is forced to leave her little dog Mops is taken from her because he is not French. Becoming Marie Antoinette, is, however, the first historical novel I have come across that gives readers a good picture of her life as Maria Antonia of Austria. Seeing Maria in her native land in the time immediately leading up to her travel to France is extremely instructive for those who wish to understand her later actions as Dauphine of France. In fact, Grey is able to give much more attention to questions of motivation and politics than many historical novels due to her structuring of Marie Antoinette's story in a trilogy. Many readers bemoan the prevalence of series and trilogies, the fact that little seems to stand alone these days, but in this case, it enhances the story being told.
That is not to say that Becoming Marie Antoinette is a perfect historical read. At times our heroine's voice is somewhat overly modern, particularly towards the beginning of the book. Before long, however, the voice either evens out, the story becomes so engaging that modernity doesn't matter, or some combination of the two. The chapter headers remain somewhat modern, for example Chapter 8 is titled "The Really Hard Work Begins," but that isn't terribly intrusive. Aside from these minor issues, however, Grey seems to have really done her homework with Becoming Marie Antoinette, and presents to her readers an engaging and historically faithful novel.
Overall, a fabulous treatment of Marie Antoinette. I recommend it and personally cannot wait for the sequel.
Buy this book from:
Powells | Indiebound*
Source: Publisher, via Netgalley.
* These links are all affiliate links. If you buy your book here I'll make a very small amount of money that goes towards hosting, giveaways, etc.
Copyright protected by Digiprove © 2011