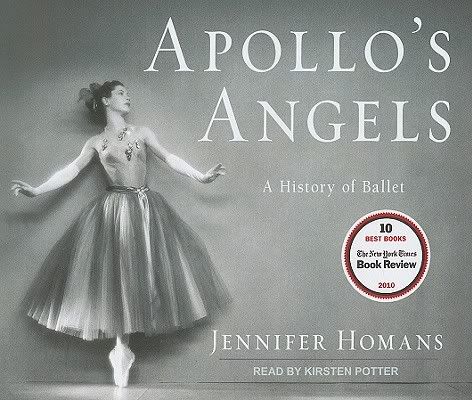 Apollo's Angels by Jennifer Homans, narrated by Kirsten Potter
Published in print by Random House, published in audio by Tantor Media
Synopsis:
In Apollo's Angels, Jennifer Homans tells the story of 400 years of ballet's history, a history which, until now, has been unwritten.
Thoughts on the story:
Ballet is ballet is ballet. Or so I thought, before reading Apollo's Angels. I had no idea that there were national differences even today, or that political movements such as the French and Russian Revolutions were so expressed through the art of ballet. Weighing in at almost 700 pages in print and close to 24 hours in audio, Apollo's Angels is certainly a commitment, but it is a pleasant one. Homan succeeds in writing a book which is informative about the history of ballet and the way that ballet serves as a mirror of social and political history, while at the same time is not overly technical. There were certainly passages here and there that lost me briefly talking about specific steps, but even though I have not taken ballet since I was five years old, I was never lost for long, and was engaged enough to stick through those technical sections to return to the history.
The one place Homan did lose me was at the very end, in which she makes an argument for the disappearance of ballet in the near future which does not seem to be hinted at or backed up in any way by the 600 odd pages that precede it. Still, though, it was a very short passage in comparison with the rest of the book, and was not enough to permanently leave a bad taste in my mouth.
Thoughts on the audio production:
Kirsten Potter did an absolutely lovely job narrating Apollo's Angels, the casting was really just perfect for the book. For my full thoughts on the audio, please see my review for Audiofile Magazine.
Overall:
I was more interested in Apollo's Angels for the social and cultural history than for the ballet itself, but ballet was a fascinating way to impart this history. I think this would work well in print or audio, although I don't think I'd have done as well with it in print, as I would likely have gotten bogged down in the technicalities of dance. Recommended.
Buy this book from:
Powells: Audio/Print*
Indiebound: Audio/Print*
I'm launching a brand-new meme every Friday! I encourage you to review any audiobooks you review on Fridays and include the link here. If you have reviewed an audiobook earlier in the week, please feel free to link that review as well. Thanks to Pam for creating the button.
Source: Audiofile Magazine.
* These links are all affiliate links. If you buy your book here I'll make a very small amount of money that goes towards hosting, giveaways, etc.
Copyright protected by Digiprove © 2011