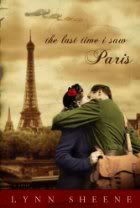 The Last Time I Saw Paris by Lynn Sheene
Published by Berkley Trade, an imprint of Penguin

Claire Harris Stone is a spoiled, oversexed socialite. Or, at least that is what the world sees, until a man from her past shows up at one of her husband's parties. Her wealthy husband believed he was marrying a pedigreed woman who would bring him prestige, not the daughter of a pig farmer skilled at playacting. Convinced that her husband will make her disappear at his earliest possible convenience, now that she represents probably embarrassment for him, Claire gets papers from an old friend and hops a boat for Paris. Except it is 1940, and the Paris Claire finds is not the one she expected to find. After an old fling fails to take her in, Claire finds work she loves in a flower shop.
Even a simple job at a flower shop isn't so simple, though, when your city is overrun by Nazis. Since she entered France without valid papers, she is unable to get the papers required by the Nazis, and thus can't work, travel, or even buy food legally. When her lack of papers becomes a danger for her friends in the flower shop, Claire turns to acquaintances in the Resistance for false papers. In return, however, she must perform missions for them, spying on the Nazis in the hotels where she delivers flowers.
The Last Time I Saw Paris is an incredibly engaging read. It is one of those books where you blink and suddenly you've read 20 pages. Sheene's prose certainly deserves much of the credit for this, but the real highlight of the book is Claire. She seems like such a potentially obnoxious heroine early on, although even then the you admire her strength and persistence, but her growth as a character and a person hits the perfect note. She is redeemed from her former, selfish self, but in a gradual way that seems perfectly realistic given her circumstances.
Readers looking specifically for the romance angle might be a bit let down, as that relationship is somewhat underdeveloped  as compared to Claire's personal growth. One can see how a love would develop between asset and handler, so it isn't entirely unbelievable, but neither is it particularly well fleshed out. However, the rest of the book is so well-drawn that, unless the romance angle is your sole reason for reading, most readers will fail to be disappointed.
Claire is a product of her time, as well as an extremely strong and capable woman. Her story fascinates and captivates, drawing the reader in and keeping the page turning. Highly recommended.
Buy this book from:
Powells | Indiebound*
Source: Author's publicist.
* These links are all affiliate links. If you buy your book here I'll make a very small amount of money that goes towards hosting, giveaways, etc.