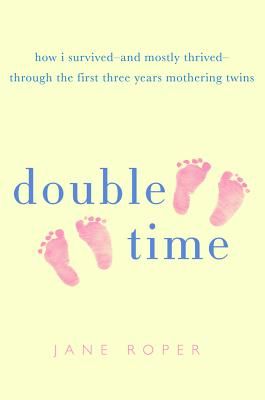 Double Time: How I Survived – and Mostly Thrived – Through the First Three Years of Mothering Twins by Jane Roper
Published by St. Martin's Press, an imprint of Macmillan
After trying in vain to have a baby and enduring fertility treatments, Jane Roper finally learned that she was pregnant. With twins. Following the initial moment of panic, Roper – a writer and reader – searched for a book that was, at the time, nonexistent: a memoir of the first years with multiples. Roper's own first few years with her twin daughters were filled with many exceptionally joyful times, but also with renewed depression and professional hardships.
Double Time is a funny and insightful look into life raising twins. Much of what Roper discusses will be relevant to all parents, life with young children viewed through Roper's wry sense of humor:
After extracting what cat food I could from Elsa's mouth – not that it mattered, really, but the idea of one's child eating horsemeat and fish eyeballs and whatever else is in dry cat food isn't terribly pleasant, especially when, as Alastair pointed out, we hadn't formally introduced those foods yet – I grabbed the dishes and went into the kitchen to find a towel to mop up the water. –p. 109
Of course, Roper also brings in the challenges that are unique to parenting twins, or children very close in age in general, such as the inability to be in two places at once as twin babies grow into toddlers, and both decide to engage in risky or disgusting behavior at the same time.
As the soon-to-be mother of twins, I found Double Time to be an honest and open look at twin parenthood. It is reassuring, even when Roper discusses the challenges, because she explains how she and her husband, Alastair, were able to meet those challenges without loss of life or limb. Her approach is descriptive, rather than prescriptive, which is also reassuring as she shows a picture of a family making it and being happy, rather than an unattainable picture of familial perfection. Towards the end of the book, she says something that sums up perfectly why Double Time is so reassuring, when responding to the eternal 'how do you do it?' question:
Of course the answer to all of these questions – in any context – is that raising twins is not a matter of being some kind of superhuman wonder parent. We simply don't have a choice. We just do it…. Not always well, and certainly not always with the amount of patience and perspective or consistency we'd like. But we do it. –p. 259
I would absolutely and unequivocally recommend Double Time to new parents of twins, but I think many parents – perhaps mothers in particular – will resonate with Roper's experiences. Highly recommended.
Buy this book from:
Powells | Indiebound*
Source: Publisher, via Netgalley.
* These links are all affiliate links. If you buy your book here I'll make a very small amount of money that goes towards hosting, giveaways, etc.
Copyright protected by Digiprove © 2012