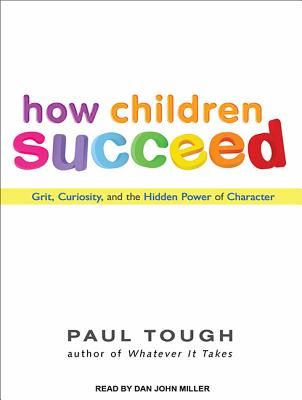 How Children Succeed: Grit, Curiosity, and the Hidden Power of Character by Paul Tough, narrated by Dan John Miller
Published in audio by Tantor Media, published in print by Houghton Mifflin Harcourt
Synopsis:
From the publisher:
A foremost New Yorker and New York Times journalist reverses three decades of thinking about what creates successful children, solving the mysteries of why some succeed and others fail – and of how to move individual children toward their full potential for success.
Thoughts on the text
Much of what Tough talks about in How Children Succeed – such as the need for strong attachments – is not new. However, combined with some of the newer and less-known research about non-cognitive skills, often referred to as character traits, such as curiosity and grit, these old Psych 101 ideas take on new life. Tough's reporting is straightforward, informative, and interesting. Perhaps his greatest skill is his ability to explain his ideas across audiences. The average parent could absolutely pick up How Children Succeed and understand any and all of Tough's theses and explanations, but he is not too simplistic for our household, with our education and education-reform backgrounds. That being said, much of the content in How Children Succeed that will appeal most to those interested in education reform. There is information for parents, but this is decidedly not a parenting book. Tough focuses primarily at students at the outsides of the socioeconomic divide: poor minority students and the children of the 1%. Still, there are things in here that parents can easily extrapolate for their own children.
As far as the issue of school reform goes, How Children Succeed reports ideas from some of the leading lights in today's movement and comes up with some very interesting ideas, many of which do seem to have the potential to effect great change. If only the parents and caregivers of my old students on the South Side of Chicago had been given attachment therapy! Our school days might have been much different and more productive.
As a side note: having been a Teach for America teacher in Chicago I was familiar with many of the reformers Tough refers to, which may have increased for me the legitimacy of his arguments, I am clearly predisposed to agreeing with many of these people.
Thoughts on the audio production:
Dan John Miller does a great job keeping How Children Succeed interesting. Of course, Tough writes engagingly enough that the text itself is interesting, but Miller adds audible interest as well. When narrating conversations between Tough and some of the subjects of his investigations or direct quotes from some of the same people, Miller gives these people unique voices. The voices are fairly subtle, so it doesn't matter that Miller isn't exactly a credible high school girl. In addition, Miller seems just as passionate about the subject matter of How Children Succeed as Tough is himself, which gives Tough's findings an increased feeling of importance to listeners.
Overall:
A fascinating look at the non-cognitive markers of success. Interesting for parents, but especially relevant for the school reform-minded out there. If you're going to want to take notes, by all means you probably want to approach this in print, but if you want a general introduction to Tough's arguments, Dan John Miller's narration is a great choice.
Buy this book from:
Powells: Audio/Print*
Indiebound: Audio/Print*
Sound Bytes is a meme that occurs every Friday! I encourage you to review your audiobooks on Fridays and include the link here. If you have reviewed an audiobook earlier in the week, please feel free to link that review as well. Thanks to Pam for creating the button.
Source: Publisher.
* These links are all affiliate links. If you buy your book here I'll make a very small amount of money that goes towards hosting, giveaways, etc.
Copyright protected by Digiprove © 2012