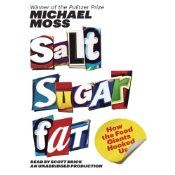 Salt Sugar Fat: How the Food Giants Hooked Us by Michael Moss, narrated by Scott Brick
Published in audio by Random House Audio, published in print by Random House

Synopsis (partial synopsis from the publisher):
Moss takes us inside the labs where food scientists use cutting-edge technology to calculate the "bliss point" of sugary beverages or enhance the "mouthfeel" of fat by manipulating its chemical structure. He unearths marketing campaigns designed—in a technique adapted from tobacco companies—to redirect concerns about the health risks of their products: Dial back on one ingredient, pump up the other two, and tout the new line as "fat-free" or "low-salt." He talks to concerned executives who confess that they could never produce truly healthy alternatives to their products even if serious regulation became a reality. Simply put: The industry itself would cease to exist without salt, sugar, and fat. Just as millions of "heavy users"—as the companies refer to their most ardent customers—are addicted to this seductive trio, so too are the companies that peddle them. You will never look at a nutrition label the same way again.
Thoughts on the story:
The one thing I'm really still stuck on from Salt, Sugar, Fat is the part where Coca Cola refers to people who consume a lot of its product as "heavy users." The drug analogy continues throughout much of the book, as Moss explores our physiological and cultural addictions to  the titular ingredients. Moss does a fabulous job covering exactly how we got to where we are and just why it is so problematic. I was continually astounded by the prominence of Moss's sources in the food industry; he clearly did his research and it is evident in the wealth of very well-presented information in the book. There was only one thing I did not love about Salt Sugar Fat, and that was how much my OCD self was bothered by the fact that  these building blocks of processed food are discussed in a different order than the title: sugar, fat, then salt instead of salt, sugar, then fat. It drove me a little crazy, particularly during section changes, but Moss's astounding work still sucked me back in immediately
Thoughts on the audio production:
Scott Brick, I have finally listened to you! Besides Simon Vance, Scott Brick is the only audiobook narrator I know who has his very own superfan. Audible has close to 500 results for Scott Brick's name, but despite the number of audiobooks I have listened to over the last few years, I have never heard him until now. Nonfiction narration is generally not what inspires superfandom, but Brick does a wonderful job with Salt Sugar Fat. Because Moss inserts himself in his research from time to time, the book often has an almost conversational quality (if you have conversations with REALLY SMART people who know an awful lot about nutrition and food science), and Brick translates this wonderfully straight into the listener's ear. He does that thing where you forget that you are listening to a narrator speak someone else's words and tricks you into believing that he is the author and he knows ALL THESE THINGS AND MORE. Really top-notch.
Overall:
General nonfiction caveats apply here: if you want to really study the material and be able to easily go back and reference things, you are probably best served either with print or a combination of print and audio. However, if you just want to be exposed to Moss's research, the audio production of Salt Sugar Fat is wonderful and one I highly recommend.
Buy this book from:
Powells: Audio/Print*
Indiebound: Audio/Print*
Source: Publisher.
* These links are all affiliate links. If you buy your book here I'll make a very small amount of money that goes towards hosting, giveaways, etc.
Sound Bytes is a meme that occurs every Friday! I encourage you to review your audiobooks on Fridays and include the link here. If you have reviewed an audiobook earlier in the week, please feel free to link that review as well. Thanks to Pam for creating the button.
Copyright protected by Digiprove © 2013