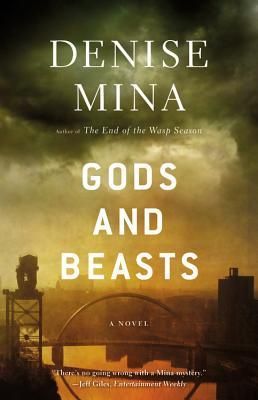 Gods and Beasts by Denise Mina
Published by Reagan Arthur Books, an imprint of Hachette

I previously reviewed the first two books in this series: Still Midnight and The End of the Wasp Season. This review contains no spoilers for any of the earlier books.
Publisher's description:
It's the week before Christmas when a lone robber bursts into a busy Glasgow post office carrying an AK-47. An elderly man suddenly hands his young grandson to a stranger and wordlessly helps the gunman fill bags with cash, then carries them to the door. He opens the door and bows his head; the robber fires off the AK-47, tearing the grandfather in two.

DS Alex Morrow arrives on the scene and finds that the alarm system had been disabled before the robbery. Yet upon investigation, none of the employees can be linked to the gunman. And the grandfather-a life-long campaigner for social justice-is above reproach. As Morrow searches for the killer, she discovers a hidden, sinister political network. Soon it is chillingly clear: no corner of the city is safe, and her involvement will go deeper than she could ever have imagined.
So, lesson learned. Three books in three months is too many to commit to in a genre that isn't one of my absolute favorites. I absolutely loved Mina's Still Midnight, but my appreciation of Gods and Beasts is more after the fact. Mina did some things here that really shocked and surprised me, and in a good way. Oh, the revelations! I can appreciate now the way things came together and the intricate process the writing of these books must be. That being said, while reading I just wasn't captivated, and I think it is largely because it was all just too much for me. Mina's Alex Morrow series is a gritty police procedural and that is something I rarely read. The first one was a novelty for me and, because it was also extremely well-written, I found it a delight. As the novelty wore off, so did my delight (although, as I said, I can still appreciate Mina's craft because objectively she's really quite wonderful), so this was more of a push until the end when things coalesced.
Someone remind me not to read a whole series in one of my non-dominant genres on a scheduled, okay? Still, I hope Mina is continuing with this series because once I get a little space from it, I know I'm going to be more than ready to continue on with Alex Morrow's journey by the time the next book would come out, especially with those shockers at the end of Gods and Beasts.
For more information, please see the publisher's page.
Source: Publisher, for BOOK CLUB.
Copyright protected by Digiprove © 2013