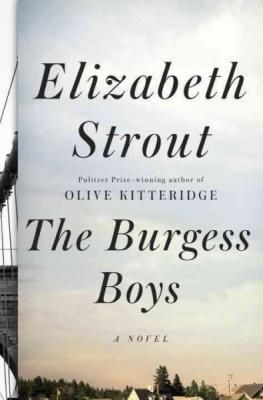 The Burgess Boys by Elizabeth Strout
Published by Random House
The Burgess siblings are close and yet far apart at the same time. The boys, Jim and Bob, live mere blocks from one another, but emotionally they are light years apart – although closer both literally and metaphorically than either of them is to Bob's twin sister Susan, who still lives in the small Maine town in which they all grew up. Bob dogs his brother's  steps, but it seems that nothing would make Jim happier than to deny everything about his early life, including his siblings.
When Susan's son Zach throws a pig's head into a mosque during Ramadan, though, the family is forced back into a semblance of togetherness. Jim, a high profile attorney, knows that he has the skills to help get his nephew out of this. Not that this is an entirely selfless act; Jim is a big shot and and his nephew committing what seems to be a hate crime tarnishes his reputation.
I haven't yet read Olive Kitteridge so I have very little to compare it to, but I loved The Burgess Boys. Jim and Susan are a bit hard to side with, but Bob is drawn in a way that makes it incredibly easy to empathize with him, and he seemed the key to the entire situation. I assumed, when I learned what the act was that this book hinges on, that I would have a very difficult time caring what happened to Zach, but I found myself caring about Bob enough that I could have an open mind about Zach's motivations, and ultimately have my heart break nearly as much for him as for the victims of his crime.
There are a lot of things going on with each and every one of Strout's characters, all this subplots would feel overly busy in the hands of a lesser novelist, but Strout puts all the pieces together beautifully and creates a book which can envelope its reader. Highly recommended.
Buy this book from:
Powells | Indiebound*
Source: Publisher.
* These links are all affiliate links. If you buy your book here I'll make a very small amount of money that goes towards hosting, giveaways, etc.
Copyright protected by Digiprove © 2013