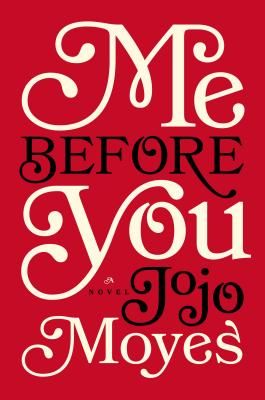 Me Before You by Jojo Moyes
Published by Viking Books, an imprint of Penguin
Louisa Clark is fairly happy with her fairly ordinary life. She has a boyfriend, a job, a family. Of course, she lives in what is basically a closet because her sister and her sister's son need the bigger bedroom and her father is sort of terrible to her. Oh, and her boyfriend is now completely obsessed with running and fitness and barely pays attention to her anymore. Still, Lou loves her job in a little cafe – until the owner informs her that he is closing up shop. Lou's father is facing possible layoffs where he works so the family really cannot afford to be without her income. Unfortunately, there isn't much out there for someone with Louisa's (admittedly scant) qualifications. Finally she finds something that she is more or less qualified for that doesn't involve processing chickens: work as a companion for a man who is a quadriplegic. Will Traynor has not always been paralyzed. He was once a high-powered businessman who liked women and adventure. Confined to a wheelchair, Will's life is much smaller than it used to be and that fact has him depressed and snappish.
I must admit, I was a bit worried about Me Before You in the first 5o or so pages. It looked like it was heading in a stereotypical direction: boy meets girl, boy and girl hate one another, boy and girl fall madly in love. There is an element of that, yes, but Moyes goes much deeper and, in doing so, creates a book that is difficult to put down. For one thing, Louisa is very realistically out of her element in Will's very privileged world. Interestingly, she is a legitimately working class protagonist; it is not unusual for a protagonist to be worried about money, or debt, but it seems that most books I read have protagonists who either are middle class or whose attitudes still seem middle class. Lou and her family are working class and realistically so, although some readers may feel insulted by Will's insistence that Lou is living a small life.
Me Before You is rife with issues of class and education, but also of quality of life. Will is used to an outsized existence, and his inability to even go to the bathroom on his own – as well as the knowledge that he is unlikely to ever recover – is emotionally painful. This is not how he ever wanted to live, and it is still not how he wants to live.
After a slightly slow start, Me Before You becomes a deeply moving read with intensely real characters. Highly recommended.
Buy this book from:
Powells | Indiebound*
Source: Publisher.
* These links are all affiliate links. If you buy your book here I'll make a very small amount of money that goes towards hosting, giveaways, etc.
Copyright protected by Digiprove © 2013