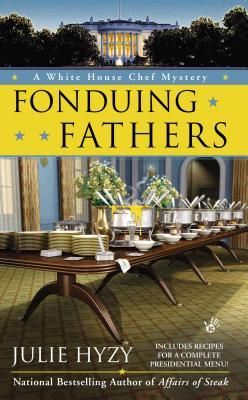 Fonduing Fathers by Julie Hyzy
Published by Berkley, an imprint of Penguin

This is the fifth book in the White House Chef series. I have previously reviewed the first four books: State of the Onion, Hail to the Chef,Eggsecutive Orders, Buffalo West Wing, and Affairs of Steak.
From the publisher:
Olivia has always believed that her father was an honorable man—until a trip to visit her mother reveals that he was dishonorably discharged from the army. Olivia is even more shocked to learn that he was brutally murdered because someone at his company suspected him of selling corporate secrets. Refusing to believe that her father was a scoundrel, Olivia won't rest until she proves his innocence.

Enlisting the help of her boyfriend, Gav, Olivia must reach out to her father's colleagues to discover the truth behind his murder. What she's about to discover may not only put her at risk, but threaten national security as well…
One thing that continues to impress me about Hyzy's White House Chef series is her ability to keep things fresh. In Fonduing Fathers she does it by taking Ollie, as Olivia prefers to be called, mostly out of the White House. At this point we have enough background built up on Ollie and her family among Hyzy's five previous books that she can change the setting up drastically like this without compromising the integrity of the whole premise. And it works, it really does. In fact, it works better than if another White House-based situation had been conjured up, because it keeps Ollie from becoming a flat, lifeless character by giving her something in her family life to be passionate about.
Because it relies on some background built up in the previous books, Fonduing Fathers is not the best place to start if you are new to the series, but you can know that if you start now, you will have six great books ahead of you.
Buy this book from:
Powells | Indiebound*
Source: Publisher.
* These links are all affiliate links. If you buy your book here I'll make a very small amount of money that goes towards hosting, giveaways, etc.
Copyright protected by Digiprove © 2013